[ad_1]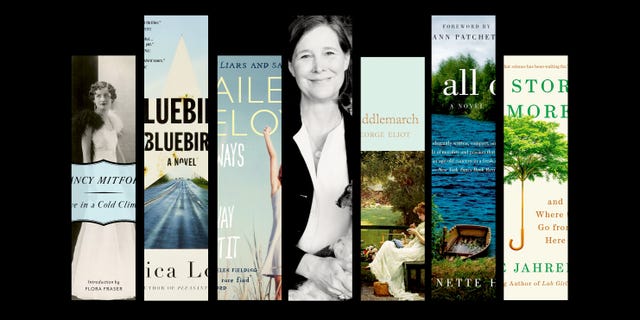 Illustration by Mia Feitel and Yousra Attia
Welcome to Shelf Life, ELLE.com's books column, in which authors share their most memorable reads. Whether you're on the hunt for a book to console you, move you profoundly, or make you laugh, consider a recommendation from the writers in our series, who, like you (since you're here), love books. Perhaps one of their favorite titles will become one of yours, too.
Ann Patchett has a paperback out today: The Dutch House, a 2020 Pulitzer Prize finalist in fiction, NYT bestseller, and her eighth novel. (Fun fact: She asked Tom Hanks to read the audiobook, and he said yes. Another one: She threw the first draft out and started over.) In other brushes with Hollywood, her 2001 novel, Bel Canto, was made into a film in 2018 starring Julianne Moore. She's also written three works of nonfiction and two picture books.
The Nashville-based self-described introvert has an internal medicine-practicing husband, shelter dog named Sparky, a blog called Notes From Ann, and a love for Malcolm Gladwell's podcast, "Revisionist History." She went to Catholic school for a dozen years; waitressed at a TGIFriday's; and interviews authors like Roxane Gay and Zadie Smith for her bookstore, Parnassus Books. The name comes from Christopher Morley's Parnassus on Wheels, about a spinster who buys a horse-drawn roving bookstore—and yes, Patchett's store has a bookmobile. It's a blue bus bought online called Pegasus, or Peggy for short. Let's get this show on the road!
The book that:
…helped me through loss:
The Suicide Index by Joan Wickersham. When someone recommended it to me, I thought there was no way I could read it, but it turned out to be the only book that helped. I later went on to read Wickersham's beautiful book of short stories, The News from Spain.
…kept me up way too late:
Bluebird, Bluebird by Attica Locke. I don't read many mysteries but I'd follow Texas Ranger Matthews anywhere.
…made me cry:
A Lesson Before Dying by Ernest J. Gaines. I was crying so hard at the end I couldn't see the page.
…I recommend over and over again:
This could be the start of a very long list, but I'm going to say The All of It by Jeannette Haien. It's brilliant, engulfing, can be read in a single sitting. Everyone I give it to is amazed by it.
…I keep trying to finish (I will, I swear):
Middlemarch by George Eliot. Every time I get 300 pages in, something comes up that I have to read so I stop.
…currently sits on my nightstand:
The Lying Life of Adults by Elena Ferrante. I started it last night. So far, so good.
…I'd pass onto my kid:
I don't have a kid but I keep stacks of Kate DiCamillo books around to give to any kid that may be walking past the house. I especially love The Magician's Elephant and The Miraculous Journey of Edward Tulane.
…I'd gift to a new graduate:
The Story of More by Hope Jarhen. It's a book about how to save the planet by consuming less.
…made me laugh out loud:
Everything by David Sedaris makes me bark like a seal. His diaries, Theft By Finding, isn't his funniest book but it's my favorite.
…I last bought:
Unforgettable by Scott Simon. It's a memoir about his beautiful mother and growing up in Chicago. It is so loving. By the time I was finished I was in love with Patricia Simon.
…has the best title:
Both Ways Is the Only Way I Want It by Maile Meloy. It happens to be a really great book but the title alone is reason enough to buy it.
…has the greatest ending:
The Leopard by Giuseppe Tomasi di Lampedusa. I won't spoil it for you. It's so beautiful, so perfect, that when I finished I started the book again.
…should be on every college syllabus:
The Night Watchman by Louise Erdrich. It is a history lesson about our government's ongoing attempts to grab Native land, a lesson in writing because there is no better writer alive today, and just a terrific read.
…I've re-read the most:
The Great Gatsby by F. Scott Fitzgerald. It's put together like a Swiss watch.
…I consider literary comfort food:
Love in a Cold Climate and The Pursuit of Love by Nancy Mitford. You have to read both of them. You'll never find anything else that good.
…features the most beautiful book jacket:
The Dutch House by me. My friend Noah Saterstrom painted the cover portrait for me in four days. It's a portrait of the main character in the novel. It's stunning.
…everyone should read:
Caste by Isabel Wilkerson because it explains how this country was made and what the consequences are for all of us.
…I could only have discovered at a bookstore:
Kehinde Wiley: A New Republic edited by Eugenie Tsai with an essay by Connie H. Choi. I love art books, but I have to see them in order to fall for them. This one is a treasure.
…surprised me:
Black Bottom Saints by Alice Randall. It's the story of 52 real-life Black saints from Detroit. It is a treasure chest. Every time I opened the book it all but emitted light.
Bonus question: If I could live in any library or bookstore in the world, it would be…
Parnassus Books, an independent bookstore of independent people in Nashville, Tennessee. And I do sort of live there since I'm the co-owner.
This content is created and maintained by a third party, and imported onto this page to help users provide their email addresses. You may be able to find more information about this and similar content at piano.io
[ad_2]