[ad_1]

Booker Prize winner James Kelman returns with a book of reminiscences and a collection of short stories. Reviews by Stuart Kelly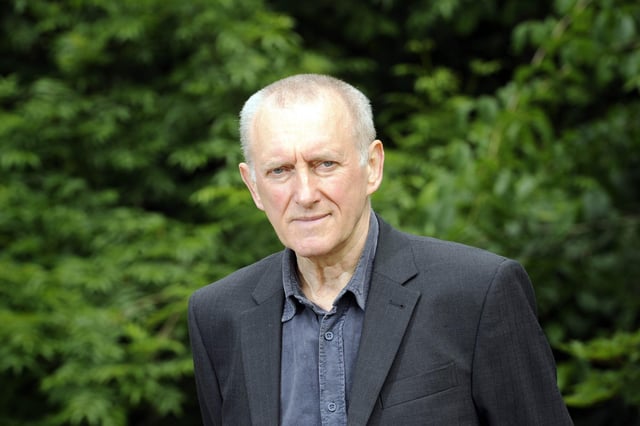 James Kelman PIC: Greg Macvean
It might not be unfair to refer to James Kelman as one of the most anhedonic writers ever. There is in his work pathos (particularly in The Busconductor Hines), absurdity (his Booker winning How Late It Was How Late), and a remarkable syntactical exploration of how a child comes to speak in Kieron Smith, Boy. For all his virtues as a writer, he has never made me laugh. There is a seriousness about Kelman, but the joke is how seriously he takes himself.
A small independent publisher has released two new works, a volume entitled What I Do, subtitled (Memoirs) and a series of microfictions called Tales of Here & Then. The latter book is self-described as being "something different from the usual book of short stories… the look of the text is part of the art-object."
But we shall commence with the (Memoirs). A better term might be a selection of obituaries in which the person being praised is Kelman. Do not expect in this any insight into what it was like to win the Booker prize, or to teach Creative Writing in various universities. Instead, despite the heartfelt examination of Mary Gray Hughes and June Jordan and Tillie Olsen, what we get is what they did for him. It is a me-me-me-moir. It would be kindly to call it cantankerous or curmudgeoundly at its best. Mind you, he gets his defence in first. In one section spuriously about the artist Alasdair Taylor he writes that "At the public level where such media commentators operate ignorance is no excuse. It springs from a less edifying feature of the Scottish Enlightenment: the drive to root out Scotticisms… Nowadays we see it for what it is: a pathetic mixture of cynicism and cowardice". Well that's me well and truly tellt.
But wait. It's not just critics in his crosshairs. The unacknowledged nature of Taylor's work "casts doubt on the legitimacy of the salaries received by employees of the Arts Council and of arts-funded formations like the Scottish Book Trust, the Saltire Society, and public art galleries, libraries and museums; in fact any body or institution funded to advance or support the art and culture of this country". I think this is both untrue and ungracious, especially as Kelman has received awards from some of these bodies. But he is entitled to his opinion. He repeatedly proclaims his disdain of the nebulous Establishment and elites, but is crystal clear about the one that counts. The elite of being A True Artist. There is something distasteful about an acclaimed and award-winning writer bragging that he told students "if you remain in ignorance of their work [true artists] then your interest in that certain literary area is not as serious as you might think". I think one can be serious about a great number of writers. Kelman sets himself up as the arbiter.
The short stories are equally bothersome, and not because they are bad pieces of work. Some of them I read almost three decades ago ("Acid" appears as a sidenote in Alasdair Gray's Lanark). Some are beguiling, particularly when dealing with imminent death or the loss of faculties. Some seem like offcuts from longer works. The introduction is typically self-regarding. As a "journeyman compositor", Kelman decided that "A blank canvas isn't nothing. Most artists are aware of this at least intuitively. Some never think of these things, they take it for granted we all share the same reality. The English and Anglo-American traditions are a bit like that".
In terms of typography, the book looks rather like someone just found the drop-down menu for different fonts. It might make a difference – stentorian capitals, parodies of handwriting and suchlike – but it is nowhere near the true artistry and commitment of a writer like Mark Z Danielewski or Alasdair Gray.
There is an incantatory style with Kelman. Despite his praise of Kafka, it seems to me more like Beckett. Take this as an example; "having to raise yourself off the chair, up off the chair, fighting to raise yourself, and if you manage it to get yourself up from the chair…" It goes on. The repetition is very Beckett. But Beckett managed to make it funny. As did Kafka. Kelman does not. Both Beckett and Kafka were also self-effacing. How late it seems, how late.
What I do and Tales of Here & Then by James Kelman, thi wurd, £12
A message from the Editor:
Thank you for reading this story on our website. While I have your attention, I also have an important request to make of you.
The dramatic events of 2020 are having a major impact on many of our advertisers – and consequently the revenue we receive. We are now more reliant than ever on you taking out a digital subscription to support our journalism.
Joy Yates, Editorial Director
[ad_2]