[ad_1]

The Simon & Schuster editor, who passed away October 9, was a passionate ally for emerging voices, particularly in the LGBTQ community.
The children's publishing world is mourning the loss of Simon & Schuster editor David Gale, who died on Friday at age 65. Authors, colleagues, and friends recalled a talented editor and a champion of LGBTQ titles.
"David was a terrific colleague and a dear friend," Justin Chanda, senior vice president and publisher of Simon & Schuster Books for Young Readers, said in a statement. "His passion for children's literature and inclusivity on the page allowed him to help foster a legacy of books that not only helped change lives, but will continue to change lives with every new generation of readers."
Before Gale became an editor at a publishing house, he was on staff at School Library Journal.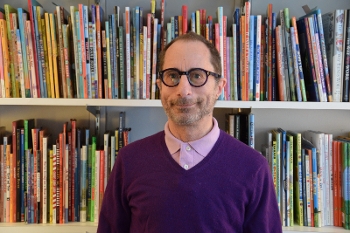 "I hired David as assistant editor the week I started at SLJ, November 1982," Trev Jones, former SLJ book review editor, wrote in an email. "He was a joy to work with—quick, funny, and such a great editor. A few years later, he accepted an editorial position at HarperCollins with George Nicholson, and George called to see if I was still speaking to him. I told him not to worry—I was about to jump out the window. However, all worked out well for everyone. Luann Toth joined the SLJ staff, and David went on to bless us with some truly memorable books. His spirit will always be with us."
Many of the authors of those memorable books took to Twitter to remember Gale.
"I am heartbroken to learn of the passing of a dear friend, S&S editor, David Gale," tweeted Tony DiTerlizzi, co-creator "The Spiderwick Chronicles" and author of WondLa trilogy. "I've known David for 20 years and worked with him on all three of the WondLa books. He was brilliant, a bit eccentric and most kindhearted. Our industry has lost a great."
Margaret Peterson Haddix, author of "The Shadow Children" and "The Missing," tweeted: "I am deeply saddened to learn of the passing of David Gale. David was the editor of 41 of my books—all my books with S&S—and he made each one of them immeasurably better. I cannot say enough about the influence he had, not just on my work, but on that of many, many others."
Gale left a mark in the industry, particularly for his work with upcoming authors, particularly creating a welcome place in publishing for LGBTQ creators.
Author Phil Bildner noted a particular groundbreaking work, "David Gale was the editor of the groundbreaking, young adult LGBTQ anthology, "Am I Blue? Coming Out from the Silence" edited by Marion Dane Bauer with stories by @JackieWoodson @brucecoville  @LoisLowryWriter @JaneYolen, and many others. He will be missed."
Wrote author Peter Lerangis: "We lost a brilliant, kind editor, David Gale, who worked at @SimonKIDS and was my editor for Somebody Please Tell Me Who I Am. He was quiet, thoughtful, sharply observant, and slyly funny, with a great passion for emerging voices and LGBTQ literature. A real mensch, a big loss."
Librarians who encountered in his time at SLJ remembered Gale as well.
"I remember his enthusiasm, his delight in some of the first authors he edited, his pleasure in work and life," Sara Miller, former director of children's services at White Plains Public Library, wrote in an email. "And of course, I remember us at the time we all met, making new beginnings and exploring new life. I'll miss him—though I haven't seen him in some years—and treasure having known him a little."
Ellen Fader, former youth services director at Multnomah County (OR) Library, said, "During his time at SLJ, David went out of his way to encourage and engage librarians by suggesting topics for articles and getting us excited to submit them. At conferences, I always sought him out at the SLJ booth because he was so supportive and seemed genuinely happy to see us librarians. I so appreciated him!"
Author and illustrator Dan Santat summed it up in just a few words, "You were a good man, David Gale."
Below is the full obituary from Simon & Schuster.


[ad_2]