[ad_1]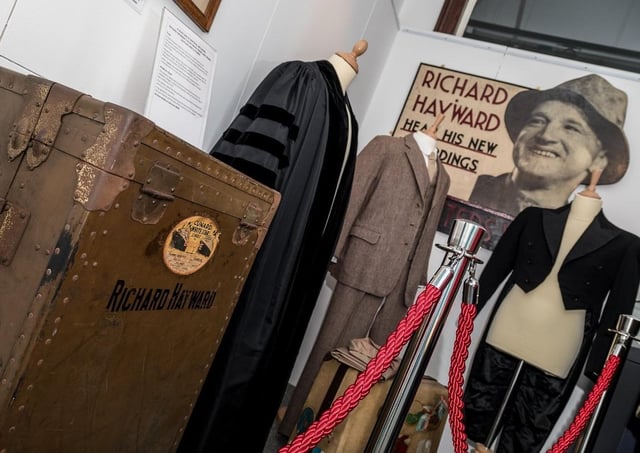 Richard Hayward's life was celebrated with a multi-media exhibition at Larne Museum & Arts Centre in 2019
Published writers such as George Buchanan (poet, Kilwaughter), Amanda McKittrick Ros (novelist, Larne), Richard Hayward (writer, Larne), Dr. James McHenry (author, Larne), James Orr (poet, Ballycarry) Louis MacNeice (poet, Carrickfergus), Archibald McIlroy (Ballyclare), and Samuel McSkimin, (writer, Carrickfergus) were all either born in or lived in the area at some stage of their lives.
Some of their work remains accessible today, even more so through the medium of the internet, given that some of their works are out of print and hard to obtain.
Dr. James McHenry's historical novel of the 1798 Rebellion in Larne, for example, was published in 1824 and is difficult to find.
Some of the writers have plaques at significant sites associated with them, as is the case with Louis MacNeice in Carrickfergus and Archibald McIlroy in Ballyclare, while Ballycarry has a heritage trail dedicated to James Orr.
Some of these writers were self-published, others were fortunate enough to have a publisher.
To mark World Book Day (March 4), local historian, author and journalist David Hume has been talking to some of the modern writers in the local area who are following in the footsteps of previous writers and poets. His reports will run online throughout the day on these websites:
www.news@larnetimes.co.uk
www.news@carricktimes.co.uk
www.news@newtownabbeytimes.co.uk
Meanwhile, Larne Museum and Arts Centre was formerly the town library, so it is an appropriate venue to celebrate World Book Day on March 4. A full line up of exciting events will be available for people to 'pop into' online and there will be a fantastic line up of literary delights to encourage visitors along!
The Carnegie Buildings event will have author Stephen Gordon talking about his four rules of writing, while local writer Angeline King will be giving her top ten tips on novel writing. Larne Drama Circle will also be participating in the event by sharing their favourite books, and those who log in for the virtual event will be introduced to four local writers.
There will also be a special World Book Day Quiz hosted by the ultimate quiz master Murray McDowell. There will be prizes for adults and children alike who enter into the spirit of the day by dressing up as their favourite character from a book.
The free online event lasts from 9am until 8.30pm on March 4 and videos are available to view throughout the day on www.facebook.com/larnemuseum
Click here to read: Co Antrim teacher's book helps kids deal with school shutdown
Thank you for reading this article. We're more reliant on your support than ever as the shift in consumer habits brought about by coronavirus impacts our advertisers. Please consider purchasing a copy of the paper. You can also support trusted, fact-checked journalism by taking out a digital subscription of the News Letter.
[ad_2]