[ad_1]

In a corner of Pokhara Public Library, every first Saturday of the Nepali month, a group of young people gather. The library is a quiet sanctuary for readers, but on these Saturdays the atmosphere is a little different.
In the presence of this group, the room is filled with excited chatter, a passionate exchange of views, as those assembled discuss the book they all have read the past month.
And this is how the Pokhara-based What the Book Club has been operating for the past three and a half years, huddled together at a public space, creating a safe and warm space for shared learning among old and new lovers of books.
And according to Nabin Subedi, the secretary of the club, it was the 6th Nepal Literature Festival, held in their hometown, that acted as a catalyst for the formation of the book club. "All of us, who have been part of the book club since its inception, were actively participating and engaging in the literature festival," says Subedi. "The sheer passion, common interest, and love for books inspired us to start a book club."
The other goal for the formation of the book club was to promote a reading culture among their age group, says Aneekarma, who is the vice-president of the book club. "Our main objective was also to channelise our efforts to establish a reading culture, so more and more people could share their views as well as understand the significance of reading books," says Aneekarma.
The book club started with eight passionate readers as its core members, which has now become 12. But that doesn't mean others too have to be core members to participate in the discussion sessions hosted by the club.
"We don't have a rigid structure and criteria regarding membership," says Abinash Baral, the president of the book club. However, they do follow a certain guideline in terms of the selection of the book they read. Every discussion is held on the first Saturday of Nepali month, which witnesses the presence of up to two dozens of readers on average, they say. Likewise, they alternate between reading Nepali and English books every other month.
Until now, the book club has discussed 41 books, which includes both English and Nepali classics like Sumnina, Pagal Basti, Shirish ko Phool, Abstract Chintan Pyaaj, The Great Gatsby, Animal Farm, Norweigan Wood, as well as contemporary books like Ranahar, Nathiya, Fifteen & Three Quarters, Fatsung, Looking for Alaska and so on.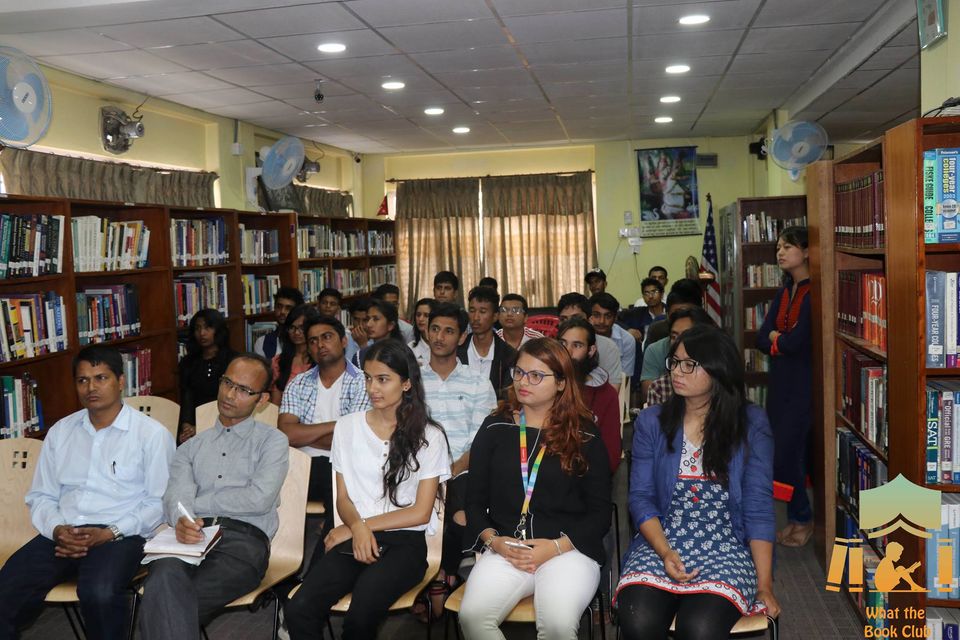 Photo Courtesy: What the Book Club
Similarly, besides the monthly discussions, according to the members, the book club also organises thematic discussions, poetry sessions, hosts podcasts, as well as facilitates platforms where participants can meet and interact with various writers and experts.
"The book club has definitely provided a platform where I can expand my network with acclaimed writers as well as develop my reading habits," says Aarati Baral, a member of the club as well as a student of literature.
Likewise, since the book club prioritises reading books of different genres, for many readers, this has pushed them to broaden their tastes. "Before, my usuals reads were limited to the kinds of books written by authors like Durjoy Datta and Chetan Bhagat. However, after joining the book club, my book choices have widened and I also started reading classics, giving a new direction to my reading habits and helping me gain a new perspective," says Bhumika Magar, vice-president of the book club.
In recent years, Pokhara has been growing as a literary hub, owing to the annually held Nepal Literature Festival organised by the Bookworm Foundation, which attracts the interest of bibliophiles from all over the world.
Similarly, the contribution of many Pokhara native writers, like Ali Miya, Saru Bhakta, Saraswati Pratikshya, Ganess Poudel, and Tirtha Shrestha, has been instrumental in helping Nepali literature gain new heights, further strengthening Pokhara's literary circle.
Yet, for aspiring Pokhreli writers, spaces where they can perform, share, and reflect their works is nominal. And this is where the book club plays an important role: providing a platform for aspiring writers to interact with like-minded people with whom they can share their work without any intimidation and get feedback.
"As someone who has been involved in the literary scene in Pokhara for the past few years, I found it comforting to be part of the book club, as it provided a space where I could discuss my thoughts and ideas openly with like-minded people of my age," says Sudarshan Poudel, a member of the club. "It never felt like we were having a serious discussion on a book, as it was fun, giving us clarity on our thoughts," adds Poudel, who's also studying literature.
But the existence of the book club hasn't only helped arts students or those interested in writing only. For many members, who are involved in the medical and engineering field, the book club has brought about equal positive changes.
"I had never read books beyond my curriculum before I joined the book club. However now after reading so many books, my horizon has expanded and the book club has given a new meaning to my life which before was always surrounded by lifeless machines only," says Bikash Regmi, a member of the book club and a mechanical engineer by profession.
Likewise, for Kabita Pathak, a medical officer, and a member of the book club, even though she joined only a year and a half ago, the experience of reading and discussing books, has helped her to be more empathetic, she says.
"Previously the emotions I went through after reading a book were limited to me only. However, after becoming a part of the book club, my horizon expanded as well as I started becoming more empathetic which has even translated to my workplace," says Pathak.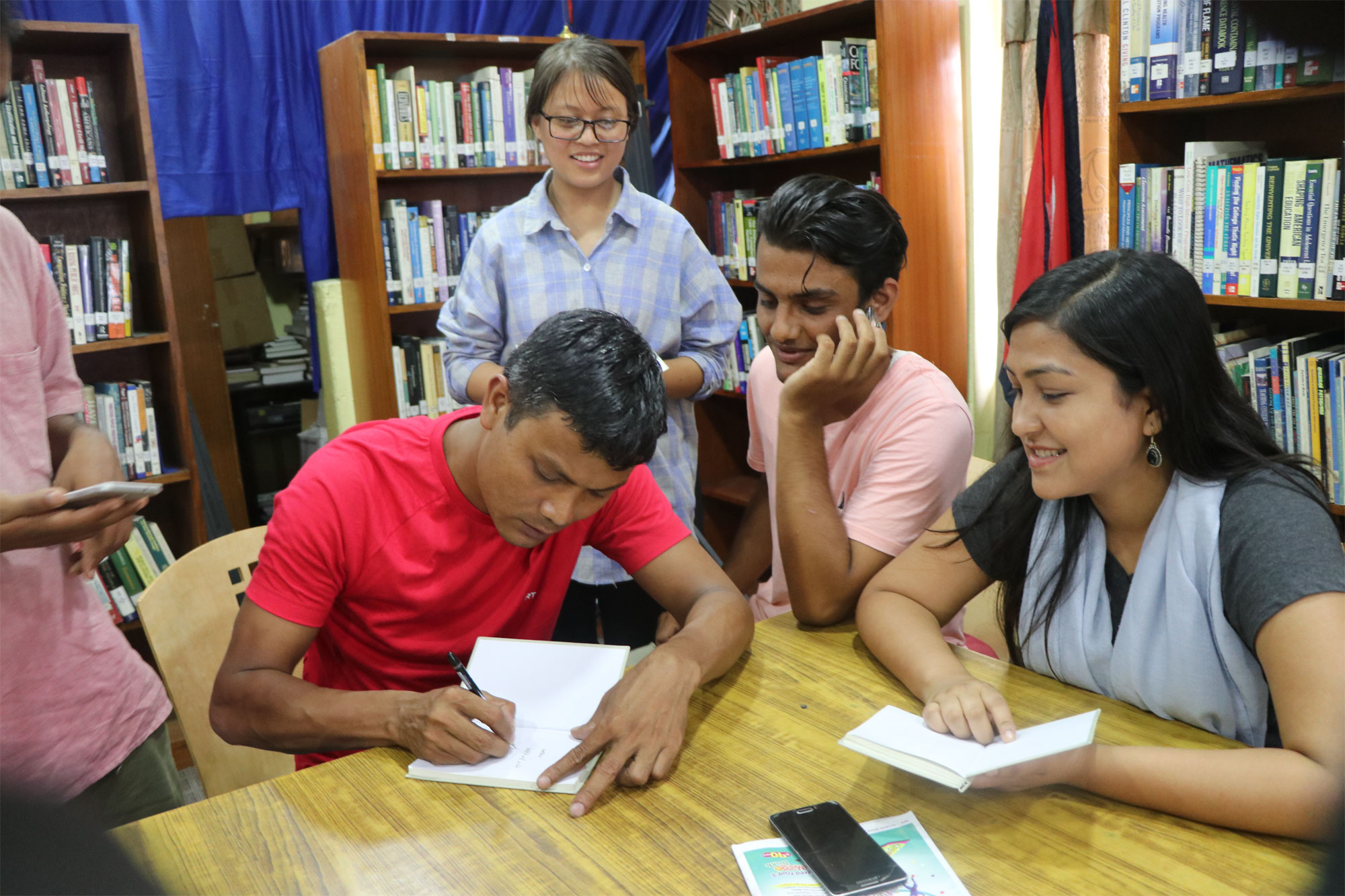 Photo Courtesy: What the Book Club
Inspired by their love for reading, according to the members, many writers and literary personalities have acknowledged their work and dedication.
"When we invited writer Ganess Poudel to one of our writer interaction programmes, he was touched and inspired by our efforts so much that he translated 'Of Mice and Men' in Nepali, a book which we had discussed in our monthly discussions," says Poudel.
However, regardless of the admirable effort, the book club is making, there are many challenges members are having to endure.
"Since the beginning, we were driven to integrate more youngsters, especially school-going students, so more of them could read and understand the value of reading culture. However, we haven't been able to do much," says Baral. This non-fulfillment of their objective is not because of their lack of dedication. It has more to do with the lack of financial resources and support from the governmental and institutional level, they say.
"We are completely running voluntarily. Since most of us are students, it can be difficult to run the book club systematically. Likewise, space is also always the issue, since there is a lack of public libraries as well," says Baral, who along with other members of the book club has been organising the discussion virtually amidst the pandemic.
Things started becoming more difficult when the government introduced a 10 percent customs duty last year. This has added an extra layer of challenge and stress they say, affecting their functioning.
"There is a scarcity of books in the market and the prices are up. Due to this, unlike before, we have to be careful about which books to read," says Baral. For now, the book club has started using free e-books available on the internet or focusing on those books that are available. But this change isn't easily adaptable for everyone.
"I haven't been able to attend a few discussion programmes since I can't read e-books. I need to feel and smell the book while reading it. The government's decision has emotionally affected me," says Magar.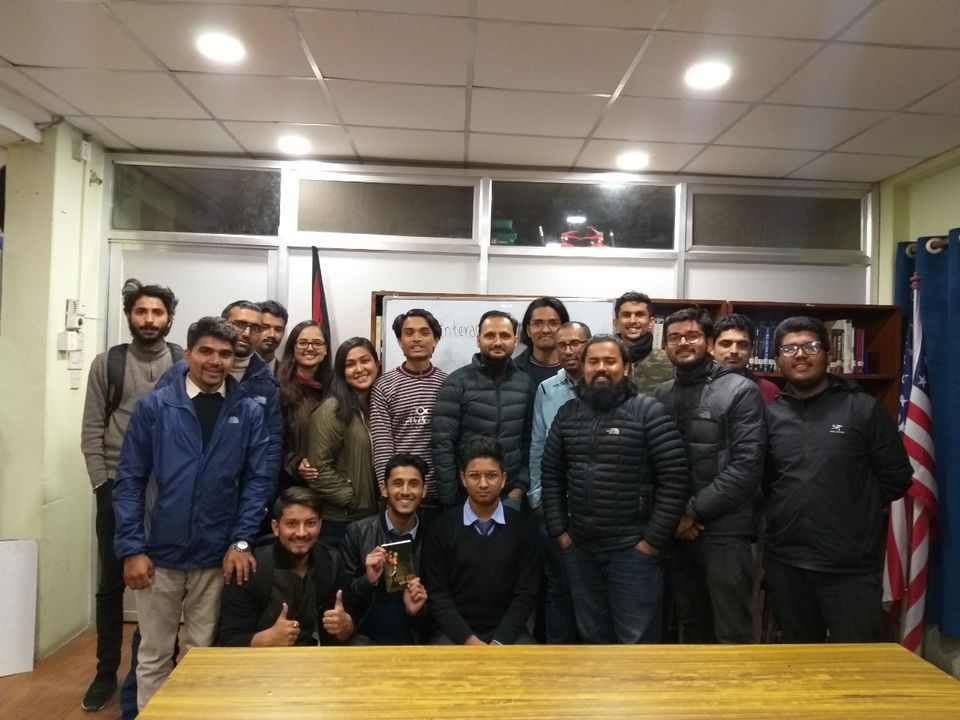 Photo Courtesy: What the Book Club
Yet, the zeal and passion to introduce people to the world of books and with new ideas and knowledge hasn't deterred, as for them even their slightest efforts have brought positive changes among their friends and families, making them pick and read a book, which keeps on motivating them, they say.
"From our childhood, our learning system is based on rote-learning. Likewise, there are no public libraries or spaces through which children and young people are encouraged to discuss literature," says Saurav Gautam, a member of the book club, who's professionally a geomatics engineer. "We started this initiative, and we hope that there will be more ripple effects of it".


[ad_2]