[ad_1]

The phrase Indonesian literature might bring to mind memories of school assignments and required reading, but a new literary initiative is poised to appeal to the digital crowd.
Sandiwara Sastra (Literary Play), a joint collaboration between the Education and Culture Ministry, the Titimangsa Foundation and KawanKawan Media, is adapting a variety of Indonesian literature into audio plays, perhaps taking note from the rising popularity of podcasts and audio books.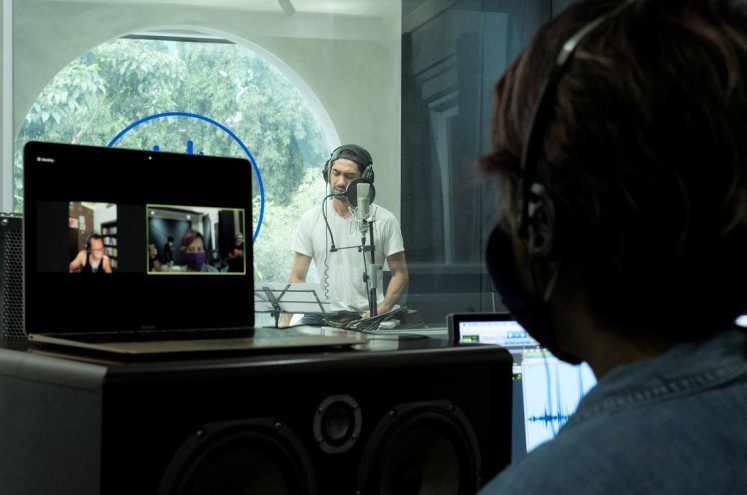 All-stars: A joint initiative called Sandiwara Sastra (Literary Play) involves a star-studded cast of 27 actors, including Reza Rahadian. (Courtesy of Titimangsa Foundation/-)
According to Education and Culture Ministry director general of culture Hilmar Farid, Sandiwara Sastra was envisioned just last month when producers Happy Salma of the Titimangsa Foundation and Yulia Evina Bhara from KawanKawan Media discussed the idea with him.
"Halfway through their discussion, I immediately said yes [to the pitch]. In my opinion, it's a really important project as literary works are vital in shaping our identity and telling our story with all of its problems," he said during a virtual press conference.
 "Twenty years ago, radio plays faced challenges from television and began to fade, but now there's a new interest in podcasts. And in some regions, radio still plays an important role."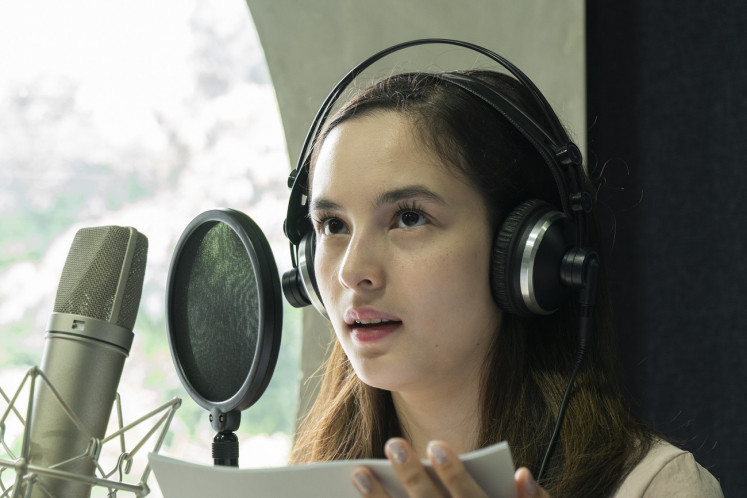 Deep in her role: Actress Chelsea Islan records her lines for Sandiwara Sastra, in which she voices Lalita from Ayu Utami's novel of the same title. (Courtesy of Titimangsa Foundation/-)
Happy pointed out that the auditory sense was an important aspect to focus on, as much of the world was dominated by visual aspects and the sense of sight.
"Sandiwara Sastra is an effort to open wider possibilities for literature to be exposed to a wider public, especially students who are studying from home," she said.
"It can also offer an alternative [medium] for creativity during the pandemic, as the meeting of actors and literature will sharpen both the emotions and the mind."
The audio plays debuted on July 8 and are accessible online on Budaya Saya's Spotify channel. One episode is also broadcast every week on national radio station RRI.
For its inaugurating season, 10 3-minute episodes have been prepared. Each episode corresponds to different books and short stories by Indonesian authors throughout history.
Six titles have been adapted so far, they are Ronggeng Dukuh Paruk (The Dancer of Paruk Village) by Ahmad Tohari, Helen dan Sukanta (Helen and Sukanta) by Pidi Baiq, Kemerdekaan (Independence) by Putu Wijaya, Mencari Herman (Searching for Herman) by Dewi "Dee" Lestari, Berita dari Kebayoran (News From Kebayoran) by Pramoedya Ananta Toer and Lalita by Ayu Utami.
The remaining four —  Orang Orang Oetimu (Oetimu People) by Felix K. Nesi, Persekot (Advance Money) by Eka Kurniawan, Layar Terkembang (Set Sail) by Sutan Takdir Alisjahbana and Seribu Kunang-Kunang di Manhattan (A Thousand Fireflies in Manhattan) by Umar Kayam — are currently in the production phase.
The episodes are directed by author and theater actor-director Gunawan Maryanto of Teater Garasi, who recognized the risks of adapting literary works into an audio format.
"When the texts meet the actors, the questions arises: How can the text be voiced? I tried to find a way to let the texts come to life through sounds. That was the challenge," he said.
"The process was like an [experiment] of sorts for us creators; me, an actor, meeting other actors as a director and writer."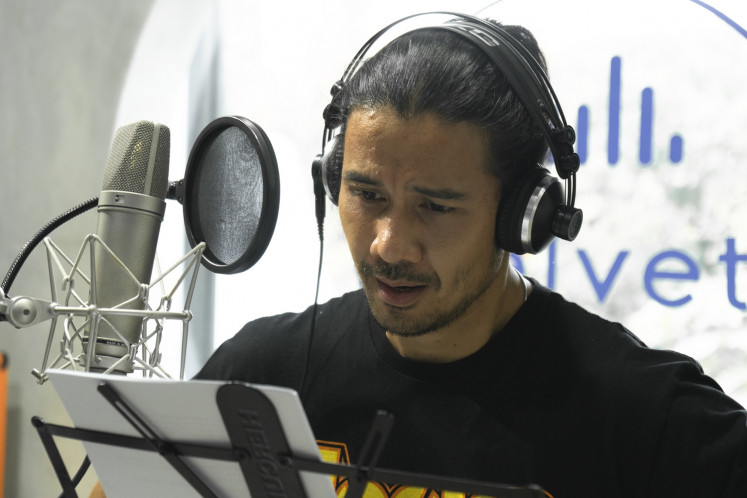 Finding one's voice: Actor Chicco Jerikho plays Diman in Pramoedya Ananta Toer's 'Berita dari Kebayoran' (News From Kebayoran), (Courtesy of Titimangsa Foundation/-)
A star-studded cast of 27 actors are involved in Sandiwara Sastra so far, including Christine Hakim, Arswendy Bening Swara, Reza Rahadian, Iqbaal Ramadhan, Vino G. Bastian, Marsha Timothy and Atiqah Hasiholan.
Yulia said the talents were not chosen based on their experience alone but also on their involvement and interest in Indonesian literature.
Journalist Najwa Shihab, who plays main character Aminah in Berita dari Kebayoran opposite actor Chicco Jerikho, said literature was important as it introduced a world different from our own.
"Through literature, we are not bound by the limitations we witness and experience every day. Literature allows us to explore what is not yet realized […]," she said, adding that by reading, people are interacting with language.
"If we only talk in conversations, we only use existing vocabularies, whereas by reading, we can come across new words and phrases, some of which we rarely see today, like those in [Berita dari Kebayoran].
"Like painters, if we only know black and white paints, there will be limitations. Literature enriches us with a variety of colors and will help us express our ideas and show people what we stand for." (ste)
Your premium period will expire in 0 day(s)
close x
Subscribe to get unlimited access
Get 50% off now


[ad_2]