[ad_1]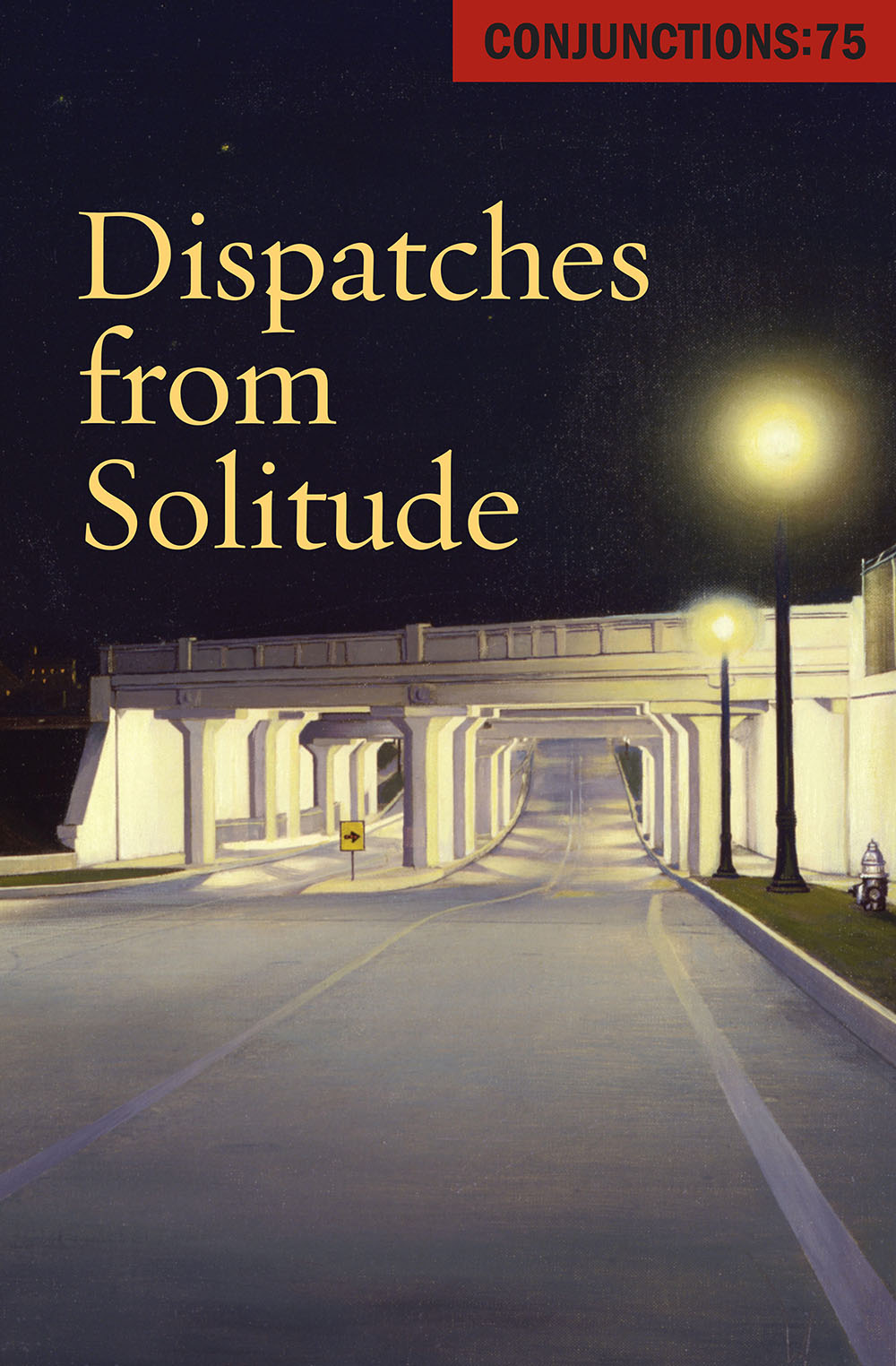 Conjunctions:75, Dispatches from Solitude
Features New Work from Sandra Cisneros, H. G. Carrillo,
Forrest Gander, Helena María Viramontes, Bennett Sims, Colin Channer, Rikki Ducornet, Kyoko Mori,
John Yau, Charles Bernstein, Marc Anthony Richardson, Clare Beams, Brandon Hobson, Michael Ives, Nathaniel Mackey, and Rick Moody
While plagues have historically fostered every kind of loss—of freedom, of livelihood, of hope, of life itself—the isolation of grim eras such as the one we are now experiencing can also provoke introspection, fresh curiosity, and, with luck and mettle, singular creativity. Conjunctions:75, Dispatches from Solitude—the latest issue of the innovative literary magazine published by Bard College—gathers fiction, poetry, essays, and genre-bending work from writers far and wide who—despite the deficits of quarantine, self-isolation, and distancing—are closely bonded by a shared embrace of the written word and its ineffable powers of expression. Edited by novelist and Bard literature professor Bradford Morrow, Dispatches from Solitude features two previously unpublished songs by Sandra Cisneros, recipient of the 2019 PEN/Nabokov Award for Achievement in International Literature; a new short story by 2020 Bard Fiction Prize winner Clare Beams; recent fiction by the late H. G. Carrillo; and new writing by Forrest Gander, Helena María Viramontes, Bennett Sims, Colin Channer, Rikki Ducornet, Kyoko Mori, John Yau, Charles Bernstein, Marc Anthony Richardson, Brandon Hobson, Michael Ives, Nathaniel Mackey, and Rick Moody.
In his Editor's Note, Morrow describes how plans for an entirely different fall issue, States of Play, were dashed as the coronavirus pandemic took over. "As hundreds, then thousands, began to die—among them dear friends of mine, such as Conjunctions donor Jay Hanus and longtime contributor H. G. Carrillo—New York and other cities were forced into lockdown," writes Morrow. "COVID-19 became the daily and nightly shadow that fell across our lives. Amid this harrowing outbreak, another, more urgent theme for the fall Conjunctions became imperative, one where we might gather writing from those who were compelled to change their daily routines, even reevaluate what their work and lives meant to them. Contributions didn't necessarily have to be about the pandemic, as such, but shaped by its constraints, by the terrors and courage it has provoked."
Additional contributors to Dispatches from Solitude include Jane Pek, Meredith Stricker, Barbara Tran, David Ryan, Gillian Conoley, Yxta Maya Murray, Anne Waldman, Vanessa Chan, Cyan James, Cindy Juyoung Ok, Alyssa Pelish, Erin L. McCoy, Alan Rossi, John Darcy, Rae Armantrout, Sylvia Legris, and Susan Daitch.
The Washington Post says, "Conjunctions offers a showplace for some of the most exciting and demanding writers now at work."
Edited by Bradford Morrow and published twice yearly by Bard College, Conjunctions publishes innovative fiction, poetry, and creative nonfiction by emerging voices and contemporary masters. For nearly four decades, Conjunctions has challenged accepted forms and styles, with equal emphasis on groundbreaking experimentation and rigorous execution. In 2020, Conjunctions received the prestigious Whiting Literary Magazine Prize. The judges noted, "Every issue of Conjunctions is a feat of curatorial invention, continuing the Modernist project of dense, economical writing, formal innovation, and an openness to history and the world." Named a "Top Literary Magazine 2019" by Reedsy, the journal was a finalist for both the 2018 and 2019 ASME Award for Fiction and the 2018 CLMP Firecracker Award for General Excellence. In addition, contributions to recent issues have been selected for The Best American Essays (2018, 2019), The Pushcart Prize XLIV: Best of the Small Presses, Best American Experimental Writing 2020, Best Small Fictions 2019, and The Year's Best Dark Fantasy & Horror: 2019.
For more information on the latest issue, please visit conjunctions.com/print/archive/conjunctions75. To order a copy, go to annandaleonline.org/conjunctions, call the Conjunctions office at 845-758-7054, e-mail conjunctions@bard.edu, or write to Conjunctions, Bard College, PO Box 5000, Annandale-on-Hudson, NY 12504-5000. Visit the Conjunctions website at conjunctions.com.
[Note to editors: To obtain review copies, please call Mark Primoff at 845-758-7412 or e-mail primoff@bard.edu]
# # #
(12.1.20)
 
Post Date: 12-01-2020
[ad_2]