Underrepresented, underpaid, and over-sexualized. For much of surfing's modern history, that's been the reality for women waveriders. But the female surfing experience cuts deeper than the inequality compared to their male counterparts, and the skimpy bikinis seen on social media feeds. And a new book from Lauren Hill seeks to celebrate those stories.
She Surf: The Rise of Female Surfing is a decade-in-the-making tome from Hill, showcasing surf cultures from around the world through a female lens, while also charting the history of women surfers. It spotlights surfers like Ishita Malaviya, the first recognized female surfer of India; Dani Burt, an amputee and the world's first female adaptive surfing champion; and Stephanie Gilmore, seven-time World Champion and equal parts competitive powerhouse mixed with style and grace.
Before releasing her book, readers may remember Hill from her short film, Pear Shaped, which she put out in 2017. It's a commentary on the struggles female surfers face – from swimwear malfunctions, to overcoming hyper-sexualization, to bikini-line shaving issues. It's a powerful piece exploring the plight of women surfers, and it's also incredibly funny, addressing issues which still hit home today.
To hear more about her most recent project, She Surf, magicseaweed's Jason Lock caught up with Hill to talk women surf history, female representation in surf media, farming in Australia with her partner Dave Rastovich, and more.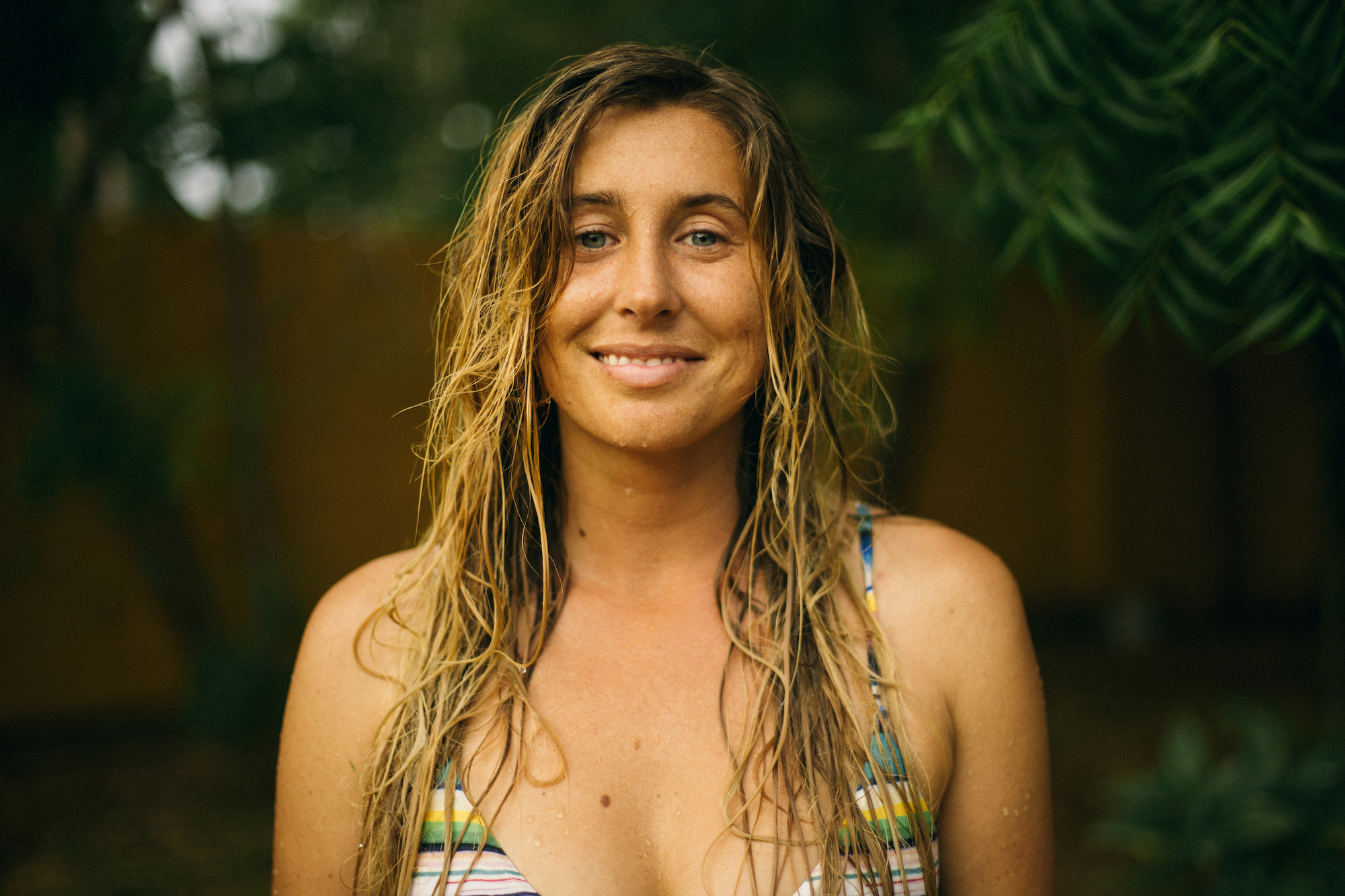 How'd the idea for this book about?
I graduated with degrees in Social and Environmental Science in 2008. The global financial crisis was going down and good jobs were few and far between. I took on some menial jobs to pay off my student loans, and started blogging about the intersection of surfing, gender, and the environment.
I've been personally exploring these same themes for more than a decade, on top of 20 years of surfing, and that work makes up most of the text of the book. The extra time that the financial crisis afforded me ended up being the greatest blessing of my career – it allowed me to follow my curiosity for storytelling.
European publisher Gestalten approached me last year about collaborating on a book, and it was an easy decision. I knew that a women's surfing book was never going to be made if I left it up to endemic media support, and I admire the quality and design of Gestalten books, so I went with them.
What stories of women's surfing does the book cover?
My goal was to celebrate the rich, dynamic, and diverse community of female surfers that I've had the privilege of sharing water time with over the years. To do that, we focused the bulk of the book on some of the women who are really stretching the bounds of women's surf culture right now – in terms of performance, competition, design, art, activism, and adventure.
I wanted women of all shapes, shades, and ability levels to see something of themselves in the book, as a reminder that surfing is theirs, too. And that women's surfing today is colorful, vibrant, technical, artistic, and engaged in social and environmental issues.
There are personal stories from 26 surfers of our present era: from Big Wave World Champion Paige Alms to writer Rhea Cortado, who is doing important work in amplifying the voices and stories of women of color in both surf culture and the outdoor industry.
And there are features on standout sheros like Steph Gilmore, Bethany Hamilton, Leah Dawson, Kassia Meador, and Chloe Calmon, as well as women who are guiding lights in the documentation and representation of surf culture.
Because there isn't really a centralized site for housing women's surf history these days – and because endemic surf media is quite light on its coverage — I wanted to include essays that speak to the ancient and abundant history of women surfers and pay homage to some of the pioneers who helped make surfing culture and performance what it is today.
What can surfers do to help promote women's surfing?
One really simple thing to do is to notice who you're seeing in surf media. Are there any female surfers in the magazine? If you're listening to a podcast and you've noticed that they've gone through half a season without featuring any women, send a note to the editor/producer and just let them know that you'd be interested in hearing from women, too. Most of the people in charge of social media and content production in the surf realm are young white guys, and it's not that they're conspiratorial or anything, but just that they might not have considered other perspectives yet.
Obviously, there's still a long way to go in terms of equal representation for female surfers. But with equal pay, the gears seem to be moving. What would you attribute the rise in female surfing to?
It seems like surfing popped up spontaneously in most places where coastal cultures engaged with the sea for sustenance and transport.
As documented wave riding cultures flourished, like those in Polynesia, Dynastic China, South America and Africa, surfing served as an outlet for play, community, healing, experiential spirituality, and competition. From the birth of riding waves, it was mostly for everyone: grandpas and children and mothers and chiefs and commoners. The book outlines how Ancient Hawaiian lore celebrates female surfers as some of the most powerful, graceful and adept.
If we look at the long arc of time, surfing's norm has been inclusion. Our primarily white, Western, masculine, middle class incarnation of surfing culture is the exception, not the rule. So, when I think about the rise of female surfing, I mostly think about how our culture is gravitating, or growing back toward, a natural state of diversity and inclusion, which is indicative of healthy systems and ecosystems.
Where can the sport go from here?
I think what's coming for surfing is an upwelling of new voices and perspectives – those who have often been excluded from belonging to core surf culture. With more black and brown surfers, more gay surfers, and surfers from beaches where waveriding culture has yet to take root, I think we're going to see new approaches, new lines and interpretations of the sport and art of surfing. I find that really exciting.
Who are some of your surfing (s)heroes throughout history?
Princess Ka'iulani, a half-Hawaiian, half-Scottish waterwoman, is one of the most important historical figures that we don't hear enough about. She served as a liaison between the cultures she bridged and helped to keep the tradition of surfing alive amidst the radical changes of European colonization in Hawaii.
I think Rell Sunn is one of the most stylish and beautiful surfers of all time. In terms of more modern surfers, I really admire women who overcome unbelievable odds to pursue a surfing life – women like Adaptive World Champion Dani Burt, or Moroccan Meryem El Gardoum, who had to overcome very gendered, and quite negative stereotypes of surfers in her home country to follow her passion for waveriding. Their fortitude and dedication is sheroic.
You look at surfers like Steph Gilmore – who is not just one of the most winning surfers of all time, but probably one of the most winning athlete of all time. How do you think women champions are underrepresented?
In terms of representation, women in general are rarely on the covers of any surf magazines in any country around the world. This includes the "champions" of the sport.  The last estimates I saw indicated that women make up as much as 30 percent of surfers in the US. So if we're talking about fair – not even equal, but just fair representation —  we'd expect to be seeing 3-4 covers that feature female surfers each calendar year, from each magazine, right?
In the book, you mention Ishita from India. What's her story?
I met Ishita while making a surf film in India. As we got to know her and surf with her, she quickly became the central figure of that film, called Beyond the Surface.
Ishita is one of the most unassumingly subversive people I know; she's had to face all kinds of judgement about what is acceptable for women and girls in India, and criticism about the darkness of her skin from being out in the sun in a culture that also idealizes light skin.
But, at the end of the day, she's a frothing surfer, and her love of the ocean allows her to trim right over those opinions about her lifestyle.
"I was looking at representations of surf media and wondering why only tanned, hairless, airbrush-perfect women defined what it means to be a woman in the water? It felt really boring and one dimensional, and really inaccurate."
What was the inspiration behind your 2017 short film, Pear Shaped?
Pear Shaped was just a way to make fun of the fact that women's surfing was starting to feel too serious — for something as inherently absurd as sliding sideways across an energy wave moving through water.
I was looking at representations of surf media and wondering why only tanned, hairless, airbrush-perfect women defined what it means to be a woman in the water? It felt really boring and one dimensional, and really inaccurate.
Surely I'm not the only hairy, awkward lady out there? The idea of "surfer-girl" still carries undertones of sexiness, but the reality of surfing for most women is anything but; it's awkward nip slips, loose tampon strings, sandy orifices, so much snot, smelly wetties, and, like everybody else, endless opportunities to be humbled by the ocean.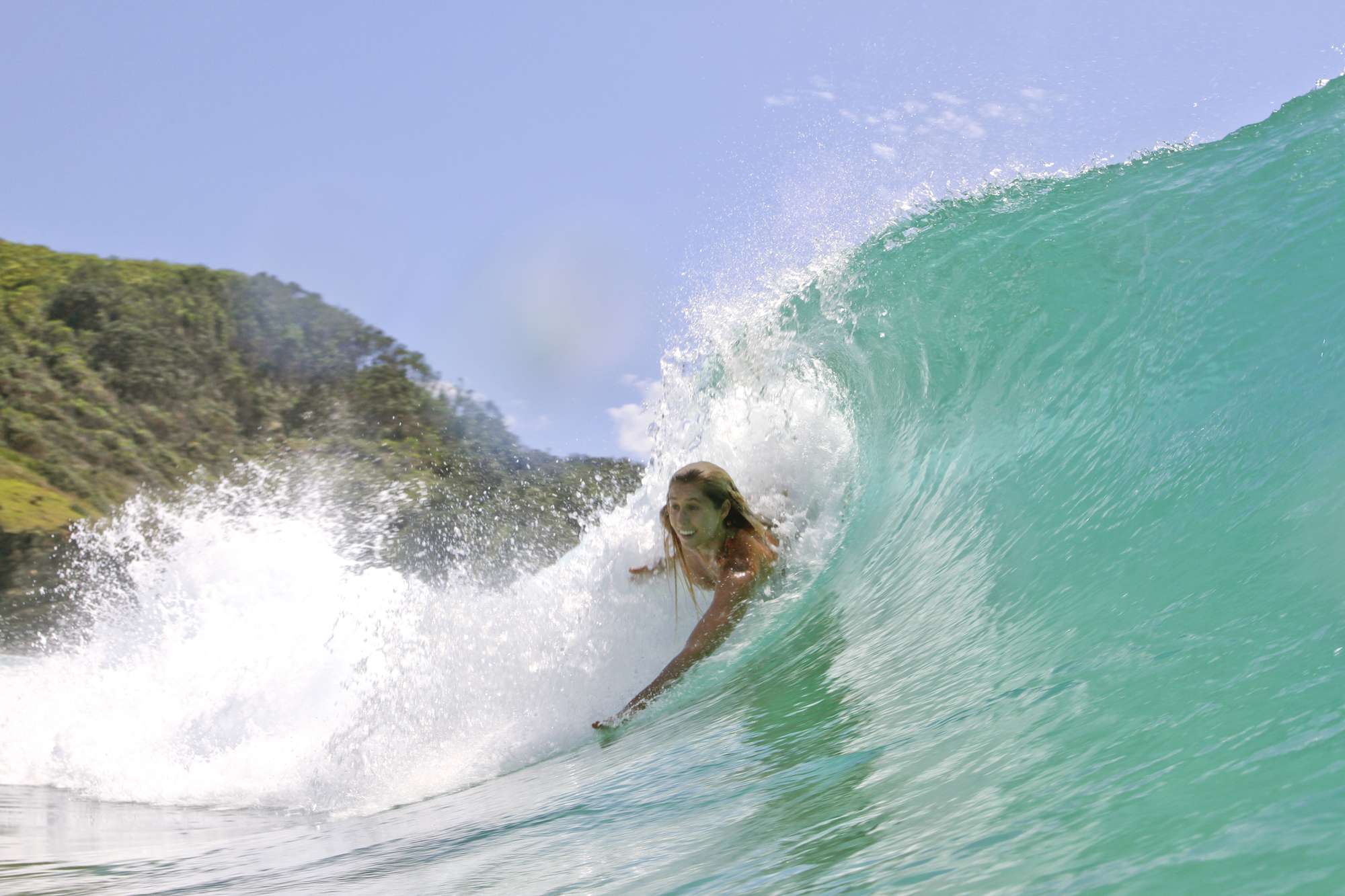 What else besides surfing do you enjoy? You're really into bodysurfing right?
I do love bodysurfing, but right now I'm really interested in changing my approach to riding waves and learning new lines. All of my instincts in the water have developed from the perspective of riding big, heavy longboards without leashes.
I'm from Florida, so that was definitely the most versatile craft for those conditions. Living in Australia now, I'm finding that I'm a bit less interested in logs and more interested in going faster, taking off deeper, trying to loosen up my lines. I can't say that I'm necessarily succeeding. I'm eating it a lot. But really loving it. It's amazing how stuck we — I — get in a singular approach, when there are so many ways to keep growing our surfing selves.
I guess you asked "besides surfing" … We're working a couple of acres of our land into a permaculture plot to, one day, be able to feed our immediate neighborhood. My partner Dave [Rastovich] is basically an aspiring farmer now, and I'm wondering, did I just move across the planet to sell boiled peanuts on the roadside in Australia? Couldn't have imagined that.
I'm really into fermenting at the moment — dosa, sourdough, kraut, hot sauce. It's pretty beautiful to get to nurture plants, to watch them grow and then to have them sustain your family. It's a beautiful and rich relationship to feel connected to the land.
Environmentalism seems to be something you're super passionate about. What can people do to ensure the health of our oceans?
From what I've learned, one of the most impactful ways to affect social and environmental change is to localize, localize, localize. We can help to transform our economic system while also lightening our footprint on the earth by sourcing our staples locally instead of importing them from afar —  especially food, power, and finances.
Supporting local, regenerative farmers, sourcing local power from renewable sources and using credit-union style community banks all help to keep capital circulating within our communities. This bolsters the local economy while also keeping transport miles low and cutting support from big companies who might be using our money to fund destructive mining, and fracking projects, for example (which big banks are almost always involved in).
Finally, we all need the support of community. We need to gather with like minded people to be seen and heard in our concerns for the earth — and for each other. Almost anything is possible when we move in compassionate unity with our community.