[ad_1]

World-renowned motivational speaker and author, Les Brown, releases a new book titled "You've Got To Be HUNGRY," where he aims to inspire people to greatness using his travails as a case study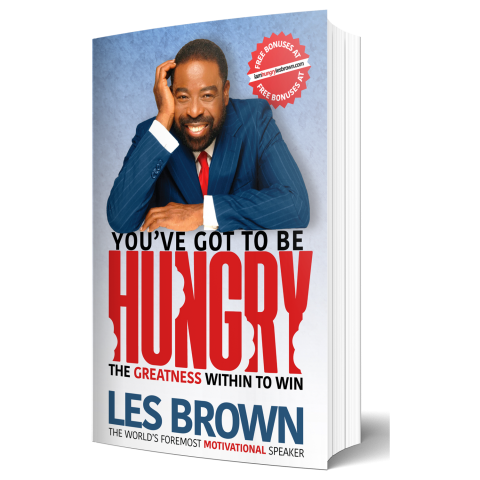 Les Brown has continued his pursuit of helping as many people as possible to live their full potentials and achieve their dreams with the release of "You've Got To Be HUNGRY: The GREATNESS Within to Win." Officially released on March 27, 2020, the company has already received tons of reviews from readers in different parts of the world.
Les Brown is arguably one of the most sought-after public speakers and resources in business and professional circles for different categories of companies and institutions. He has been in the business of serving people and developing successful individuals on the business front and personal levels for more than 50 years, energizing his audience to meet the challenges of the world around them. He is known for skillfully weaving his compelling life story into the fabric of his listeners' daily lives, a feature he again brought to bear in "You've Got To Be HUNGRY."
In the latest of his projects, Les walks readers through his struggles, chronicling his life's trials, tribulations, and triumphs. He aims to help readers discover and take advantage of the power of the mind. The author shares how he overcame these trials with readers, offering them real and practicable tips. The book is particularly unique as Mr. Les shares his over five decades of working with thousands of successful business leaders with his readers in the must-read life guide.
"This book is a must-read for anyone at any stage of their life. 51 years of speaking, learning, listening, and educating comes through in this masterpiece by Mr. Les Brown. Having had the privilege of interviewing Les in a podcast recently, I have had the pleasure of engaging directly with the great man. It was a God moment. In addition to reading this book! You must also take the time to watch him in video or in real life if possible Les Brown is one of the great individuals of this and last century," said Laban Ditchburn.
As a speaker and author, Les Brown has amassed several awards, including Council of Peers Award of Excellence – National Speakers Association (1987) and Golden Gavel Award – Toastmasters International (1992). He also won a Chicago-area Emmy® for his unsurpassed fundraising pledge drive for the Public Broadcasting System.
The book is currently available on https:// www.iamhungrylesbrown.com/get-now for interested readers across the globe.
For more information about "You've Got To Be HUNGRY" and other projects from Les Brown, please visit ~ iamhungrylesbrown.com.
Media Contact
Contact Person: Les Brown
Email: Send Email
Phone: 213.235.2135
Country: United States
Website: iamhungrylesbrown.com


[ad_2]