For many illustrators, sitting down and creating is one of the biggest joys in their profession. For Aimée de Jongh, the opportunity to travel may just be as important.
"Because as you know, when you make comics, you're just spending days and days behind your computer or behind your drawing table – you're not seeing anyone, not seeing any sunlight," she revealed during an online discussion hosted by Sahabat Seni Nusantara.
"It's just so nice to go to a festival, for example, or go out to comic book shops and do signings and meet other people."
Though traveling and socializing is what de Jongh looks forward to, the ongoing pandemic has forced the cancellation of numerous events around the world, including several signings and festivals across Europe and the United States, where she was scheduled to make appearances.
Nevertheless, her work, which centers on humanity, continues, with illustrations often coming from her many trips.
For instance, de Jongh's latest graphic novel TAXI! is an autobiographical work based on four taxi trips she took in four cities: Los Angeles, Paris, Jakarta and Washington, DC.
Another notable work, the 2017 graphic journalism work Europe's Waiting Room, was a drawn reportage from a refugee camp on the Greek island of Lesbos, where no cameras were allowed but sketchpads were.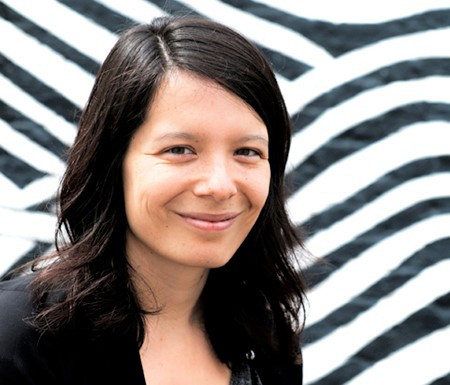 Drawing life: Illustrator Aimee de Jongh started out as a comic artist for a daily newspaper before moving on to create works with more serious themes like refugee living and grief. (Courtesy of Aimee de Jongh./-)
Despite studying animation at the Willem de Kooning Academy as a young adult, the Rotterdam-based de Jongh knew from her childhood that she wanted to be an author of comic books.
"I was always drawing, I was always creating little comics about myself or about characters I made up. If you asked me as a child, 'What would you want to become?', I would say a comic artist.
"The dream was always there, but after high school, there was no education I could follow to become a comic book artist. We don't have any academies here – now we do, but at the time we didn't, so I decided to study animation because I thought that's the closest thing to comics," she recalled, noting the similarities between the two art forms in creating storylines and characters.
Shortly after graduation, de Jongh got her start through the daily comic series Snippers, published in the newspaper Metro from 2012 to 2017. The lighthearted series stars de Jongh's alter ego Aimée as she lampoons the struggles of everyday life, from the noisy neighbor upstairs to applying the right amount of makeup.
She called it quits after five years, mostly because creating a new strip every day eventually became "too much work", as she put it.
"I kind of ran out of ideas and jokes, so I decided to send them an email and resigned. But in the end, I have a lot of these albums [of comic strips, published across nine volumes], and the newspaper also doesn't exist anymore, so I guess I went away at the right time, so it would've stopped anyway," she joked.
The decision to quit was also followed by a wish to move on to more serious fare. De Jongh had already dabbled with such work with the critically acclaimed The Return of the Honey Buzzard, her graphic novel debut.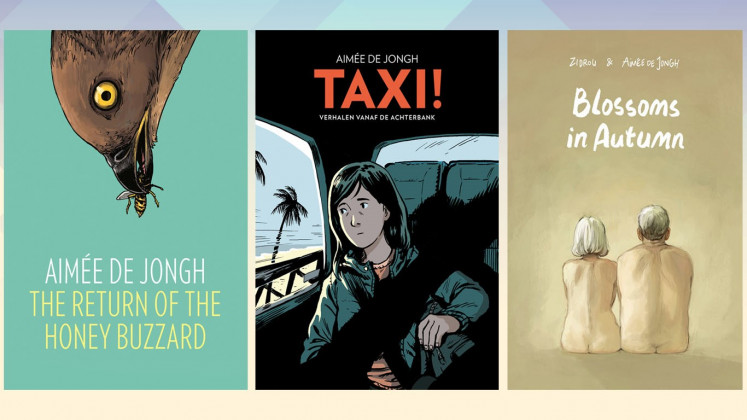 Published: 'The Return of the Honey Buzzard' was adapted into a movie of the same name in 2017, while De Jongh's latest work 'TAXI!' is an autobiographical graphic novel told from the backseat of four taxi rides in four different cities. In 'Blossoms in Autumn', she collaborates with Belgian comic book writer Zidrou. (Courtesy of Scratch Books/Mediatoon)
Launched in 2014, The Return of the Honey Buzzard deals with themes like grief and consequences, telling the story of a bookstore owner who deals with past memories after witnessing a suicide. The graphic novel cemented de Jongh's name in the scene, and was even adapted into a movie with the same name in 2017.
Following that in 2018 was the award-winning Blossoms in Autumn, a collaboration with Belgian comic book writer Zidrou. De Jongh highlighted Zidrou's style of writing, which commonly uses themes from society.
Blossoms in Autumn is a story is about love and sensuality for people over 50 years old. Ulysse, a 59-year-old who is fired just one year before his retirement, meets Méditerranée, a 62-year-old former model who works at her father's cheese shop.
The story is of hopeful love, as none of the years etched into the lovers' figures seem to matter when the two meet, as they fall deeply in love right away.
While it is a heartwarming story, de Jongh was initially worried about some scenes in the book, which show the lovers being intimate with each other, as couples normally do.
"I remember being very worried that people wouldn't want to see this because it's gross – you don't want to look at your parents kissing, right? So why would anyone buy this book?" she said.
Fortunately, her fears were unfounded. Blossoms in Autumn was a critical and commercial success, receiving a third print in three months and being named Graphic Novel of the Month for April 2019 by The Guardian.
In one part of her latest work TAXI!, de Jongh portrays the perennially jammed streets of Jakarta through her own eyes. To capture this, she sat in the backseat of a taxi making conversation with a driver.
The trip, her first one to the Indonesian capital, was partly for leisure, aside from being there for a festival. 
During the trip, de Jongh mentioned that she was from the Netherlands, but her father was from Jakarta. In a strike of coincidence, the driver then mentioned that his father came from the Netherlands.
"I always mention that I'm from Holland, and usually they say something about the famous soccer players, but the driver from Indonesia was the only one [who talked about] how Holland colonized Indonesia for so long.
"Then he said that his father was from Holland and we had this strange connection. I really enjoyed the talk as he opened up about his father and the funeral, as he just passed away. It was a very open and special conversation," she explained, adding that it was a good start to the trip as it was her first conversation in the country. (ste)
Your premium period will expire in 0 day(s)
close x
Subscribe to get unlimited access
Get 50% off now