[ad_1]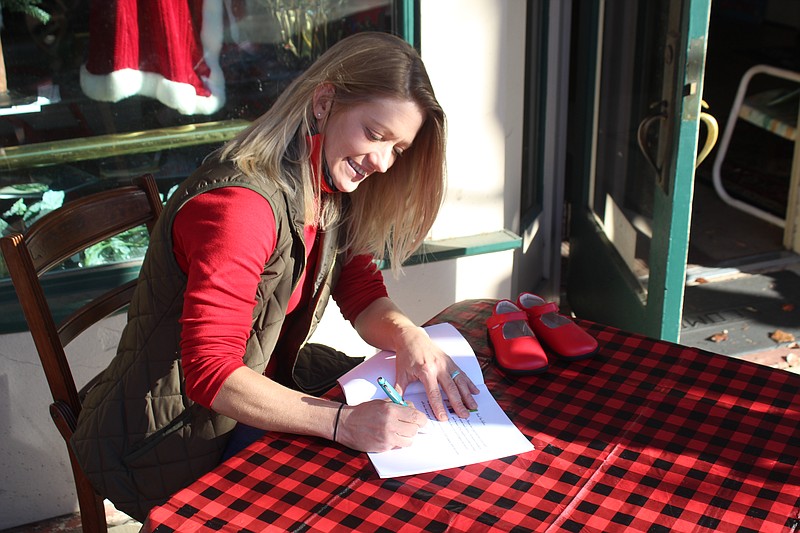 Randa Stevens held a book signing at Jefferson Street Books last Saturday to mark the release of her new book, Lilly and the Red Shoes. (Matt Hutcheson/News-Times)
Randa Stevens held a book signing outside of Jefferson Street Books on December 11, an event that marked the culmination of a personal goal for the El Dorado resident.
Lilly and the Red Shoes, written by Stevens and illustrated by Harry Hiller, is the author's first published book. It was published by The Butterfly Typeface of Little Rock.
Stevens said that the book is best suited for children aged three to six and is a "short, simple book with beautiful illustrations."
The book tells the story of Lilly, a little girl who must learn how to cope with the loss of her favorite pair of red shoes.
"It's about finding the positive side of change and looking for the good in a situation," Stevens said.
Stevens said that she has always enjoyed writing, and Lilly and the Red Shoes was born from multiple strains of inspiration.
"I was reading books to my daughter every night, and then just had an idea and jotted it down. It was my mother's wish to get it published and it's taken off from there. I like to write and want to be a writer, and my mission with this first book was just to do as much good as I can," Stevens said.
The book, Stevens said, is dedicated to her daughter.
The book's central theme – coming to grips with change – is both particularly congruous with the age of COVID-19 and at all times. In the book, Lilly's journey culminates in her realization that new possibilities can emerge from change.
"I think [it has] an important message. There's so much change right now, and I think it's something that is good for kids… I have a soft heart for kids," she said.
Change was certainly evident during the book signing at Jefferson Street Books, as masked friends and well-wishers filed by the outdoor table to have their new book signed by the author.
"It's my first book – though I do hope to have more – and the community support has been amazing," Stevens said.
She is also using the book to promote local nonprofit pediatric therapeutic organization HOPE Landing.
Stevens, who is a volunteer and advocate for HOPE Landing, said that a portion of the money from each copy of Lilly and the Red Shoes sold, whether in person or online, will go to the organization.
"My daughter attended HOPE Landing for 10 years and they have a special place in my heart… They have done a tremendous amount of good in our lives and I'm forever indebted to them," she said.
The book is available at Jefferson Street Books and Everything Home in El Dorado or online at Amazon.
Sponsor Content
Comments
[ad_2]