[ad_1]

Talented author, Majken Selinder Nilsson, announces the launch of an offer for the Kindle editions of her books at $.99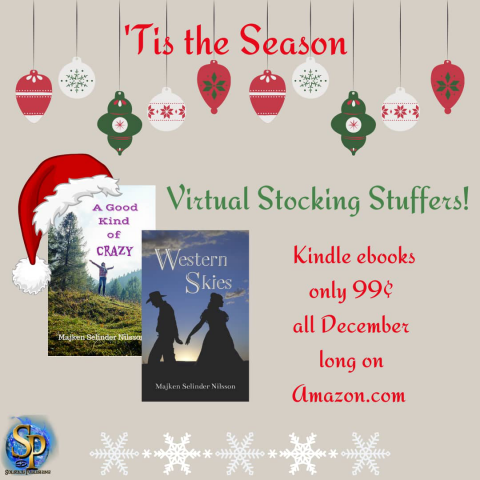 In line with her goals of using her writing skills as a tool for inspiring millions of people across the globe, Majken Selinder Nilsson has announced that the Kindle editions of her books will be available for $.99 for the whole month of December. The move resonates with Majken and her publisher's aim of getting people interested in giving books as gifts and promoting the reading culture.
The reading culture in different parts of the world has significantly dipped over the years for several reasons. According to a recent report published by Amy Watson on Statista in January 2019, on average, Americans between the ages of 20 and 34 spend just 0.11 hours reading daily, amounting to less than seven minutes a day. The worrying trend has been attributed to increased television watching, internet browsing, and video gaming. However, Majken Selinder Nilsson and her team are looking to challenge the status quo with her recent move to slash the prices of the Kindle editions of her books. Just in times for the holidays.
Majken Selinder Nilsson has authored two highly-rated books that would make a great virtual stocking stuffer or holiday gift for the avid reader of women's fiction. The author has enjoyed wonderful reviews for her debut novel, "A Good Kind of Crazy," a compelling read that chronicles the experience of 43-year-old Kat Anderson after discovering her husband's infidelity, leading her to pursue her former self by revisiting her past career as a caterer, and possibly finding love,  on a TV set in the mountain wilds of Canada.
"Western Skies" is another amazing work from Majken Selinder Nilsson. The novel reveals the story behind the TV show Western Skies featured in "A Good Kind of Crazy". The book details the marriage of Sarah to her childhood sweetheart before tragedy strikes, and then narrates how Sarah met Joe on the journey of getting her feet back under her, as they both risk taking a chance on finding a different "Happily Ever After."
Both books have enjoyed rave reviews from readers across the globe, and more people will have the opportunity to feel the unique experience of reading both stories with the $.99 Kindle offer on Amazon.
For more information about Majken Selinder Nilsson and her works, please visit – https://majkenselindernilssonbooks.com. Majken Selinder Nilsson can also be found across several social media platforms, including Facebook, Twitter, Instagram, and LinkedIn, as well as her blog at https://majkenselindernilssonwritesblog.wordpress.com
Media Contact
Contact Person: Majken Selinder Nilsson
Email: Send Email
Phone: 775-219-3924
Country: United States
Website: majkenselindernilssonwritesblog.wordpress.com


[ad_2]