[ad_1]

PROVO — In a span of two weeks, BYU's postseason aspirations went from a shot at a multi-million dollar New Year's Six bowl bid against a Power Five conference opponent to a berth in the Boca Raton Bowl, with an average payout of $900,000 against a team from the American Athletic Conference.
In a bowl season where motivation often trumps talent, the Cougars (10-1) are in a position where motivation could easily be lacking after a five-point loss to Coastal Carolina seemingly ended any hopes of an undefeated season and top-tier glory.
At least, on the surface.
Even as it built itself up as one of the best college football teams in the west with a win over Boise State — only five teams west of Texas have just one loss, and most of them have half the wins that BYU does — the No. 17-ranked Cougars still have plenty to prove as they prepare to face UCF on Tuesday (5 p.m. MT, ESPN).
"There's always been a question mark around BYU, an asterisk if they're Power Five worthy," said BYU linebacker Isaiah Kaufusi, one of a handful of seniors who could play 'one last hurrah' in a Cougar uniform. "I think this season, we've shown that we can compete with the best teams. We're going to erase this question mark around BYU; we're a good team, the program is in good hands, and the program will continue to be great. That's what we have to prove right now."
BYU's one loss came to a good team, and the College Football Playoff selection committee admitted as such by boosting the 11-0 Chanticleers to No. 12 nationally before the Sun Belt title game with No. 19 Louisiana was canceled due to COVID-19 issues with the program.
So, too, is UCF. Even if the Knights' 6-3 season is considered a down year, UCF was considered one of the original breakthrough teams of the Playoff era. The Knights entered the season ranked 24th in the AP Top 25 and USA Today Coaches Poll, the third-straight season ranked in the preseason polls.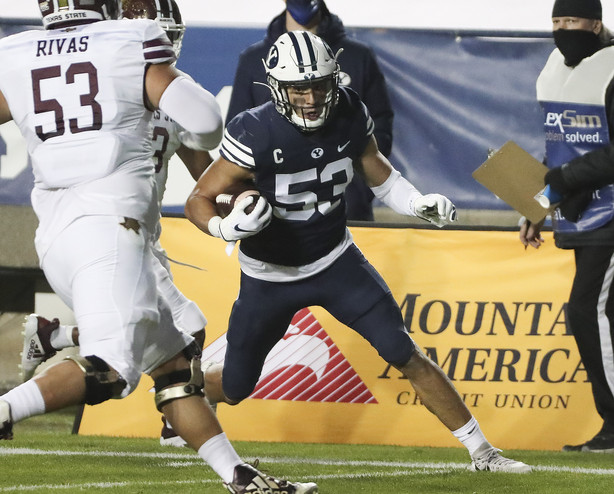 They're now competing in their fifth consecutive bowl game, a run that includes the Peach Bowl in 2017 and Fiesta Bowl in 2018.
Even if UCF doesn't have the "P5" moniker next to their game, most in college football consider the newcomers to be a top-tier opponent. That includes the Cougars, who are 1-1 all-time against the Knights and still have plenty to prove.
"I think we consistently just need to prove that we're a good team," said BYU quarterback Zach Wilson, who will decide after the game if he will return for another season or enter the NFL draft, where he is projected as a first-round pick. "We had a loss that we shouldn't have; I feel like if we had that game again, we'd approach it differently. But I think we still have to prove that we're a good team — you're not a good team if you don't finish the season off right."
Sophomore quarterback Dillon Gabriel has the Knights' offense humming, a group that has scored 30 or more points in 31-straight games, dating back to 2017. Gabriel was one of the best freshmen in the nation when he threw for more than 3,600 yards, and improved in 2020, throwing for 3,353 yards with 59 career passing touchdowns — the fifth most in school history.
He's the only quarterback in FBS history to have thrown for 2,500 or more yards with 20 touchdowns and two or fewer interceptions in six games, and one of three UCF signal callers to throw for 3,000 yards in multiple seasons (Daunte Culpepper and Blake Bortles are the others).
After replacing McKenzie Milton following a devastating knee injury late in 2019, Gabriel didn't miss a beat — which shouldn't be a surprise, considering his mentoring under former Snow College quarterback and one-time Utah State offensive coordinator Josh Heupel, now in his second season as UCF's head coach.
"Every year, they're a team that is explosive on offense and that's a huge reflection on him," BYU coach Kalani Sitake said of Heupel. "He's mentored the quarterbacks well, too. They had a quarterback with a devastating injury, and then Gabriel steps up and tears it up. That's a huge reflection of what Heupel does."
On the air
No. 17 BYU (10-1) vs. UCF (6-3)
Kickoff: Tuesday, Dec. 22 at 5 p.m. MT
TV: ESPN
Streaming: WatchESPN
Radio: BYU Radio, KSL Radio 1160 AM/102.7 FM
Series: Tied, 1-1
×
Related Stories
More stories you may be interested in
[ad_2]