[ad_1]

After months of being cooped up at home, you'd think most people would be excited to finally get the chance to step out during and resume their (new) normal lives, right? Instead, mental health professionals are seeing a rise in cases of 'post-lockdown anxiety', wherein – as restrictions ease off, and offices and public spaces, like salons and parks, open up – many people are afraid to leave their homes, and are panic-stricken at the thought of going back to office and socialising with friends, like they once used to. What's causing this reaction?
THE FEAR OF LEAVING ONE'S LOCKDOWN COMFORT ZONE

"It's natural for something like this to happen when humans have stayed indoors for this long. We are creatures of habit!" explains Dr Sonia Chaddha, a therapist from Mumbai. Having already had to adapt to a major change in routine this year, many are uncomfortable with the fact that they're being pushed out of their comfort zones yet again.

And as challenging as it had been at first, the lockdown and work from home had eventually given many extra time, so they could sleep for extended hours, work on their fitness, and pursue a hobby. Some people had even managed to perfect the work-life balance – after struggling for years – during the lockdown. All of these things are now hard to give up.


"The lockdown gave me the time to look after my in-laws, and to bond with my four-year-old daughter. Now that I have started to work from the office four days a week, I'm extremely anxious and scared as there is no one to look after them at home," says Dhara Rathod, HR professional and single mum from Kolkata. She adds, "My daughter cried a lot on the first day of me resuming work, and although she is alright now, I cannot leave home without feeling uneasy, worried, and guilty, and feel bogged down emotionally."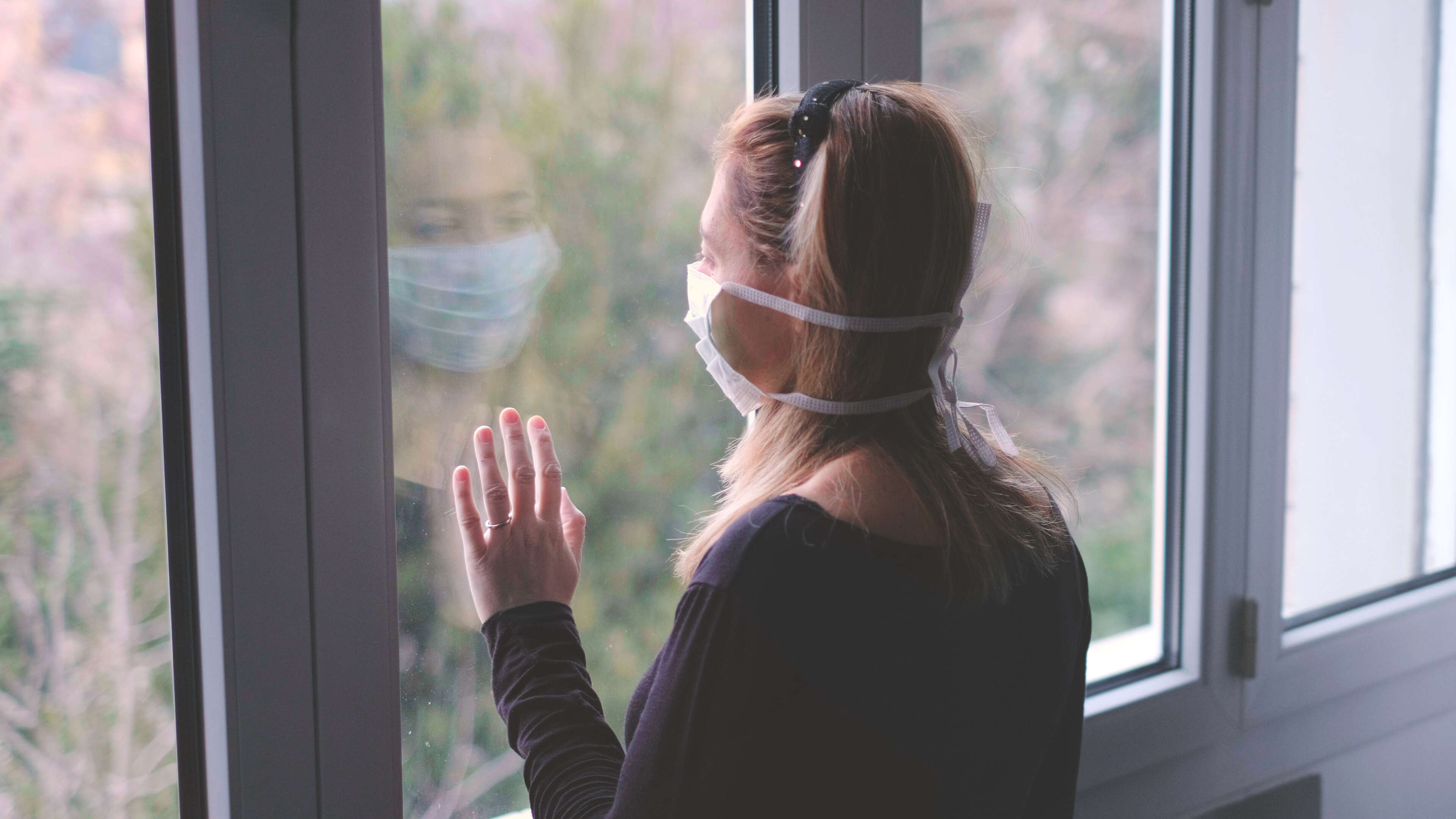 Pic: iStock


WARY OF PHYSICAL INTERACTION

Another byproduct of lockdown has been the increase in social anxiety. "Having stayed all by myself for over three months, I am petrified of meeting people again, including my closest friends. Besides the fear of infection, no human interaction in all these weeks has made me socially awkward. I am scared about interacting with people again," says Kunal Singh, a student from Pune.

Also, from FOMO (Fear Of Missing Out), the lockdown had us embracing JOLO (Joy Of Letting Go), and most of us have become a little too comfy in our PJs and shorts, and with our bra-less, heel-less and shaving-free existence. "Meeting friends, colleagues, and clients again, would mean going back to my grooming routine, but I don't feel comfortable about that," says Seema Singh, an HR professional from Pune.
READY FOR THE NEW NORMAL? NOT QUITE.

With the risk of infection still high, the new normal barely feels normal. "People felt safe inside their homes, but now when they have to go about living their lives 'normally', while also ensuring their safety, they are worried of the uncertainty," says Dr Sonia.

In the pre-corona age, one looked forward to going out to dinners, movies, parties and concerts, to socialise and unwind. However, all these activities seem unlikely to happen any time soon – which is another reason why people don't quite seem happy about the unlocking. "When you go out now, you see many of the establishments are still shut and it gives you an eerie feeling. Also, you are constantly scared of getting infected. That's why I prefer to sit at home and binge-watch a web series instead!" says Sahil Sharma, a musician from Mumbai.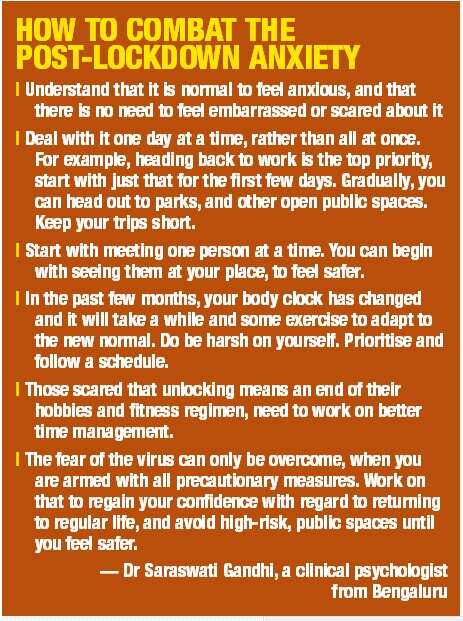 HOW TO COMBAT THE POST-LOCKDOWN ANXIETY

– Understand that it is normal to feel anxious, and that there is no need to feel embarrassed or scared about it
– Deal with it one day at a time, rather than all at once. For example, heading back to work is the top priority, start with just that for the first few days. Gradually, you can head out to parks, and other open public spaces. Keep your trips short.

– Start with meeting one person at a time. You can begin with seeing them at your place, to feel safer.

– In the past few months, your body clock has changed and it will take a while and some exercise to adapt to the new normal. Do be harsh on yourself. Prioritise and follow a schedule.

– Those scared that unlocking means an end of their hobbies and fitness regimen, need to work on better time management.

– The fear of the virus can only be overcome, when you are armed with all precautionary measures. Work on that to regain your confidence with regard to returning to regular life, and avoid high-risk, public spaces until you feel safer.

— Dr Saraswati Gandhi, a clinical psychologist from Bengaluru

[ad_2]