[ad_1]

During the weeks and months of quarantine, many of us took to the kitchen. What started as a way to cure boredom from cabin fever quickly became a teaching tool, creative outlet, inspiration, and fun way to make three meals a day for the home-bound family. Wherever you find new recipes to roast, bake, sauté, and enjoy, The Rolling Pin on Olympia's west side has all the tricks and tips you need, and the tools you thought you had up but didn't.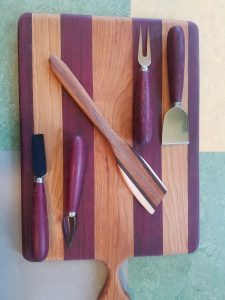 Reports acknowledge that "As the coronavirus pandemic spreads through the US, and the world is increasingly practicing social distancing to slow the spread of the disease, millions of Americans are spending a lot more time in their homes than they used to. With shelter-in-place orders in many states, work-from-home directives from many employers, and many public spaces such as theaters, museums, bars, and restaurants all shut down, people are turning to cooking while self-quarantined not just for sustenance but for comfort and entertainment, too."
But with this increase in cooking and baking, you probably have found yourself short on the many gadgets mentioned in online recipes or foodie shows. This is where The Rolling Pin saves your bacon…literally. Owner Alicia Elliott has posted a complete visual inventory of all of their items on the website and customers can then purchase items over the phone by calling Marty, The Rolling Pin manager, at 360-754-3955, Wednesday through Sunday from 10:00 a.m. through 3:00 p.m.
The store is still closed for in-person browsing so simply park in one of their two dedicated curbside pick-up spots, give Marty another ring and he'll happily deliver the products to your waiting car. Have questions about something you've seen on the website or heard about in a podcast? Call, send an online message, or start a quick chat through Facebook. Note that all payment must be completed by phone or email before pick-up.
To kick off summer, Elliott partnered with 95.3 KGY radio on Father's Day to give away a genuine Wüsthof knife along with a book about cooking around the campfire. Any knife purchase comes with a voucher for a free knife sharpening service to keep it operating at peak effectiveness.
The owner of three thriving businesses in Olympia, Elliott is always on the lookout for stunning products which showcase our region's craftiest individuals. "We reach out to local artists and artisans for unique items and are currently showcasing a beautiful cheese knife and cutting board set made from Purple Heart wood," Elliott says. Alternating bands of glossy, traditional wood-grain are highlighted by cabernet-tinted panels just begging to showcase your next Charcuterie assortment.
They sell thermometers, spice mills, linens, tools, cutting boards, food storage options, small appliances, bake- and cookware, and books galore.
The Rolling Pin also offers cleaning supplies for your kitchen because, whether novice or top chef, we all need a little help.
More of a host or hostess than cook? They've got you covered too. There are items for brewing coffee and tea as well as adorable aprons so no-one will guess that the cookies you're serving aren't homemade. Or make a gift basket of cookie cutters, novelty flasks, and rolling pins to thank parents, teachers, coworkers and friends for sticking with you during these crazy times.
Find informational videos on the store's Facebook page showcasing their specialized products and services. That's also where you can track any changes to their hours, item availability and exciting new product launches.
Dietitians at the University of Washington have shown that homemade meals save money and time, use healthier ingredients, are mindful of portion control and food sensitivities, and bring the family together. And with the school year ending on a slightly chaotic note, consider having the kids help because "involving your children in food preparation (maybe by asking them to read the recipe out loud or mix ingredients) is not only a fun thing to do, but also a great way to teach them healthy eating habits."
Social distancing will be around for many months to come. But that doesn't mean we're stuck sitting on the couch, binge-watching re-runs, re-heating hastily delivered pizza. Get up, move around, raid the pantry, and get everyone involved in the healthy, tasty, and (shh, don't tell) educational hobby that is cooking. It's a lifelong passion that never goes out of style. Especially if you're wearing a cute apron.
The Rolling Pin is located upstairs from the Park Side Café at 1909 Harrison Avenue Northwest. Come hungry and grab a delicious lunch from the Park Side Café's pick-up window or curbside delivery because sometimes NOT cooking is a treat too.
Sponsored

[ad_2]