[ad_1]

Long ago, Lore Perseous fled that brutal world in the wake of her family's sadistic murder by a rival line, turning her back on the hunt's promises of eternal glory. For years she's pushed away any thought of revenge against the man–now a god–responsible for their deaths.
Yet as the next hunt dawns over New York City, two participants seek out her help: Castor, a childhood friend of Lore believed long dead, and a gravely wounded Athena, among the last of the original gods.
The goddess offers an alliance against their mutual enemy and, at last, a way for Lore to leave the Agon behind forever. But Lore's decision to bind her fate to Athena's and rejoin the hunt will come at a deadly cost–and still may not be enough to stop the rise of a new god with the power to bring humanity to its knees.
Buy Lore by Alexandra Bracken.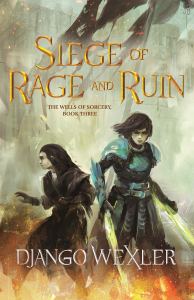 Siege of Rage and Ruin by Django Wexler
Type: Novel
Publisher: Tor Teen
Release date: Jan. 5, 2021
Den of Geek says: This month's high fantasy installment is the finale in a popular series, and one that makes us want to see how the characters arrived and where they go from here. Ghost ships! Mind control! 
Publisher's Summary: Isoka has done the impossible―she's captured the ghost ship Soliton.
[ad_2]