[ad_1]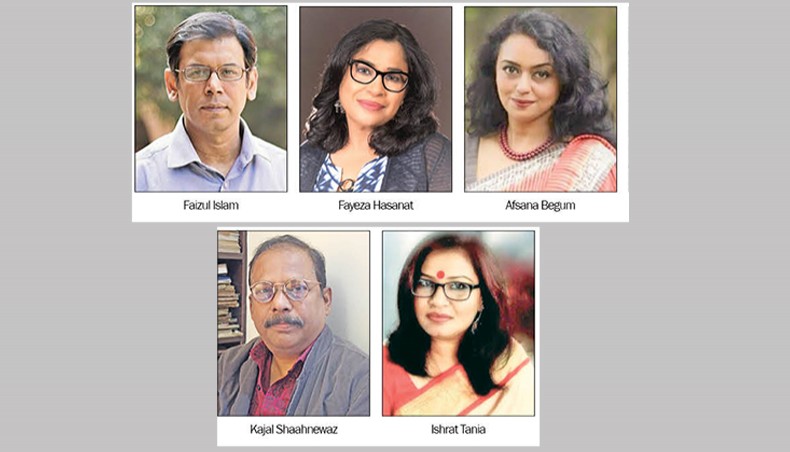 Achieving women's equality in society has been a pressing issue since the emergence of modernism and it still holds sway over our everyday existence. Dhruba Sadiq of New Age lends his ears to writers who examined whether the presence of strong female characters in literary works would make a difference.
As long as a society is oppressive against a particular gender, people are ought to take initiatives for correcting that anomaly. This is the starting point for thoughtful effort in literature that could talk about the existing unequal state of women in literature. In literature, the quest for finding an alternative to an oppressive social system appears as the final goal, fiction writer Faizul Islam said.
He added, 'We have a good deal of feminist literature in the global arena. Similar effort is witnessed in Bangladesh, both in fictions and non-fictions, though, on a very limited scale. Non-fiction writers are more successful than those who write fictions.'
'In literature, there is this exploration of the place of a woman in society as an individual or a group. However, the portrayal of the fight for equity or equality in fictions is tied to the question of changing the status quo. With it comes the issue of existing political matrix, which is missing in fictions in Bangladesh. Putting a woman or a group of women in a certain way to express some particular progressive perspectives is only a phase that can create a certain degree of consciousness in the mind of a reader in this part of the world,' concluded Faizul Islam.
Author and translator Fayeza Hasanat raised issues to interrogate the right-based politics that often appear androcentric in peripheral capitalist societies across the world.
'In this millennial post-postmodernist world, no genders should be viewed as better or greater than the rest. There should not be any fight for equal rights anymore, because the demand for equal rights presupposes inequality as an abstract truth,' said Fayeza Hasanat.
'By inserting themselves into the androcentric locus as thinkers and by becoming pseudo-men with "equal" rights, women cannot become a corporeal and ontological entity of their own accord. It is not equal right that is at stake here. What is at stake here is identity — their right to live as who they are, their right to think, to be and to express themselves,' argued Fayeza Hasanat, and hastened to add, 'Passivity is not an option, neither is subjectivity. Subjectivity is a requirement, because language does not speak without subjectivity. Victimisation is not an option, because it does not do any justice. It only reinforces the body as an object — of desire, gaze, shame, and violence. Women should not live under the shadow of the androcentric ideology anymore. It is time to liberate our thoughts and knowledge from the ominous gender trap,' Fayeza Hasanat concluded.
'One of the most contentious issues is the issue of gender inequality, which is entrenched in feminist social-political thoughts. Literature portrays human life highlighting certain values and it is in the region value that a writer can insert ideas drawn from feminism and its multifaceted narrative. Gender inequality thus becomes a focal point in various literary works,' said fiction writer Afsana Begum.
'The feminist approach is a sociological approach that can be applied in literature alongside a comparative criticism of the epochs. By comparing literary works from the 20th and 21st century, several important findings can be drawn, such as (a) feminist thoughts were getting stronger as the 20th century progressed, (b) feminist thoughts always oppose gender inequality as they are seen as a binary opposition in literary work, (c) both feminism and gender inequality are perpetuated through human values and their attendant repetitive actions, (d) changes in personal and familial values are crucial in order to consolidate the feminist position and ensure gender inequality, and (e) the overall change of values, especially social and cultural values, can bring changes in society,' Afsana Begum elaborated.
'Throughout both the centuries, literature as well as the society and the position of women in relationship with men went through some radical changes. For example, A Room of One's Own by Virginia Woolf is noted for being both a literal and figural space for women writers within a literary tradition dominated by men,' Afsana Begum clarified and added, 'It was the suffragette movement that had started this revolution of equality between men and women.'
'In all human civilisations, a gulf between men and women existed as it does in contemporary societies. Social inequality, misgovernance and greed for individual power are largely responsible for such a divide. Both men and women have been trapped in inequality and it has gradually taken on a complex shape throughout history,' said poet-novelist Kajal Shaahnewaz.
'The infinite joy of creation that the humankind needs, that union is impossible without the joint efforts of men and women. It is not possible for a man to do anything alone. Even to survive in the time the COVID-19 outbreak, to control the climate, to refrain from war, the fraternity between men and women is necessary,' he added.
'The women have to discover a weapon to keep her self-awareness awake. The weapon of education — the lifeblood of humanity,' the poet added.
'I have recently written a novel titled Shey, a feminine Bangla pronoun, where women come off as self-sufficient. They make their own decisions, make love in their own terms and break certain repressive social norms,' mentioned Kajal Shaahnewaz.
'The patriarchal social structure and the capitalist system of production legitimise male domination. Resulting from the perspective of religion, race, class, caste, gender women still remain in a subordinated position. Therefore, women's struggle in all spheres including social, economic, intellectual and political arenas still continues,' said fiction writer Ishrat Tania.
'In literature and art as well as in all other intellectual spaces, inequality persists. Because, as a genre, fiction does not fall outside the patriarchal boundaries. Male creativity has gained recognition and dominance. Male characters are also presenting female characters from a patriarchal perspective. Literature has not given as much space to women as it has to men's thoughts, perceptions, emotions and experiences,' argued Ishrat Tania, adding, 'Literary works, and even their analysis bear the stamp of the point of view of the dominant males. As a result, women's literary works are also evaluated in the language of patriarchy, for example, the very expression "women are writing better", brings to light the patriarchal way of looking at women's creations.'
'I see hope, since women are writing in the face of thousands of obstacles associated with the patriarchal structure. Female characters in fiction are now being presented from the point of view of female writers. Therefore, women's voice in fiction can play an important role in establishing women's rights. I would like to mention Sultana's Dream by Begum Rokeya and the trilogy of Ashapurna Devi. Besides, Ismat Chughtai, Tony Morrison, Margaret Atwood, Ama Ata Aidoo have shaken the society with their sharp criticism of patriarchy,' Ishrat Tania explained.
By way of a summation, Ishrat Tania mentioned the emerging trend and recalled some of the literary giants who portrayed women in relatively positive light. 'Women writers are writing about women's personal and social life, decision making, establishing control over themselves. Female characters are being created by going beyond the traditional rules. It is certainly playing a positive role in establishing equality. I think it is necessary to mention the exceptional female characters created by Bankimchandra Chattopadhyay, Rabindranath Tagore, Sharatchandra Chattopadhyay and others,' she concluded.


[ad_2]