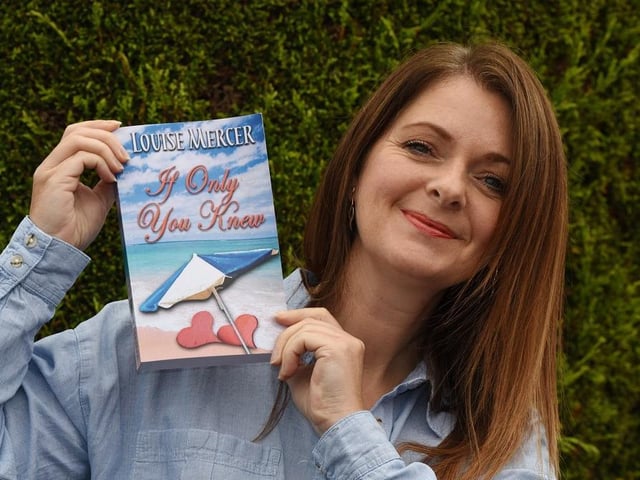 Louise Mercer with her novel
An NHS worker has achieved her lifelong dream of having a book published.
Standish mum Louise Mercer had If Only You Knew, published this summer after finally knuckling down to write her first full novel.
A romantic comedy, the story centres on a lady called Laura who finds herself the beneficiary of a picturesque seaside B&B.
And although Louise would have been easily forgiven for making the most of her downtime this year, she's actually been hard at work writing her second book!
Louise, 45, has always had a passion for writing, and said the process had helped ease the stress and anxiety of working for the NHS during a global pandemic.
She said: "It's a seaside summer romance beach read. It something I started writing for myself, really. I ended up sending it off to a publisher to see their views, and it went from there.
"I've always liked writing, from being little I've always written stories for myself. And I'm a big reader.
"I think what made me write my own book is that, whenever I'm reading, it was never quite the perfect book for me.
"I would put a book down and think 'I wish this had happened', or 'If I'd written it, I would've done this.'"
After her husband gave her a new laptop for Christmas two years ago, Louise finally decided to take the plunge and start writing a novel.
She finished her first draft in just six weeks, getting most of the work done following stressful days at work.
"All I've ever wanted to do is write," she said.
"I didn't really have the book in my head, I just started writing,
"I didn't intend to send it to anybody, I wrote it for myself. I finished the book and thought, I wonder if it's worthy of something? I sent it to a few friends who said it was brilliant, so I sent it to a publishing house, and was very lucky that they accepted it straight away.
"I was absolutely over the moon."
Louise said the writing process has been key to helping her relieve stress and worry all her life.
"When I was at school, English was always my favourite subject. If ever I had something bothering me, I would either immerse myself in something I was writing to forget about it, or I would write about the problem.
"During lockdown, I've started writing another book. It's given me a bit of purpose during lockdown. I've had a very demanding job during the pandemic which has kept me mentally busy, but you need to sit back from it. I felt really fortunate that I had something to settle down and do in the evenings. Writing is my thing. It was my escapism."
She added: "I never thought writing would be this therapeutic. It's been such a massive help to me."
If Only You Knew is available now on Amazon.
Thanks for reading. If you value what we do and are able to support us, a digital subscription is just £1 for your first month. Try us today by clicking here and viewing our offers …