[ad_1]

Unless you've had the misfortune to break one, have you ever stopped to think about the bones in your body and the part they play in your life story?
In her new book Written in Bone, which comes out next week, world-renowned forensic anthropologist Professor Dame Sue Black reveals that our bones are the silent witnesses to the lives we lead, and explores the secrets hidden in them.
From skull to feet, via the face, spine, chest, arms, hands, pelvis and legs, she shows that each part of us has a tale to tell. What we eat, where we go, everything we do leaves a trace, a message that waits patiently for months, years, sometimes centuries, until a forensic anthropologist is called upon to decipher it.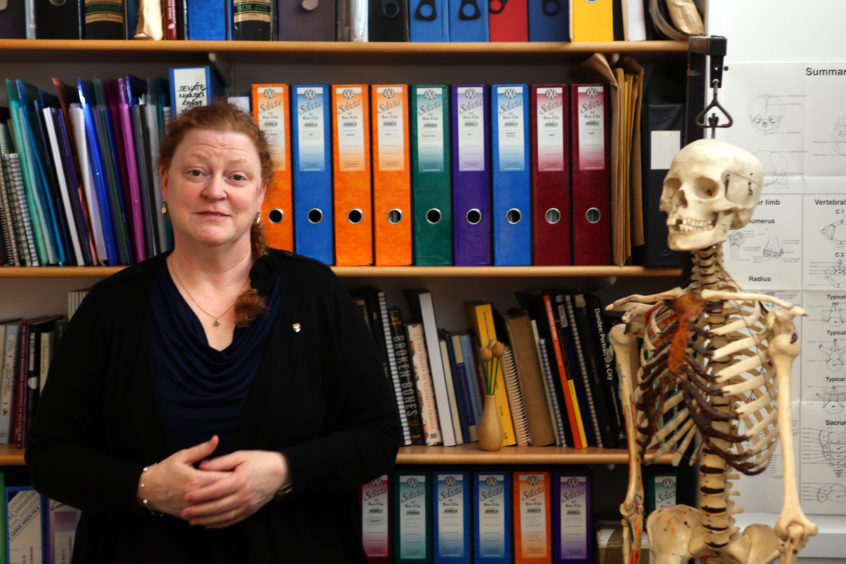 "We might think that our brain is the only place capable of laying down the memories of our lives but in this we would be mistaken," says Sue, who led the award-winning Centre for Anatomy and Human identification at Dundee University for more than 15 years before taking up the role of Pro-Vice Chancellor for Engagement at Lancaster University.
"There are many areas of the body that carry echoes of our experiences, our habits and our activities. We just need to use a particular set of tools to be able to recover the evidence, decode it and then read it."
Like Sue's first book All That Remains: A Life in Death – which was awarded the 2018 Saltire Book of the Year – Written in Bone is neither sad nor macabre and once again she draws upon the years of research and what her work has taught her.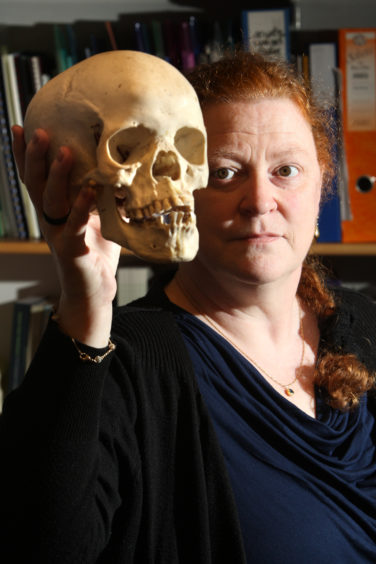 No stranger to death from a young age, Sue reveals: "As a young child I would go shooting with my father and so I had no qualms about handling dead rabbits, pigeons and so on and gutting and skinning them.
"As a teenager my Saturday job was in a butcher's shop. In school it was biology that piqued my interest and when I got to university I simply fell in love with the study of human anatomy.
"We undertook full body dissection and so to have the luxury of a full year to dissect from the top of a person's head down to their little toe was a humbling and absorbing experience."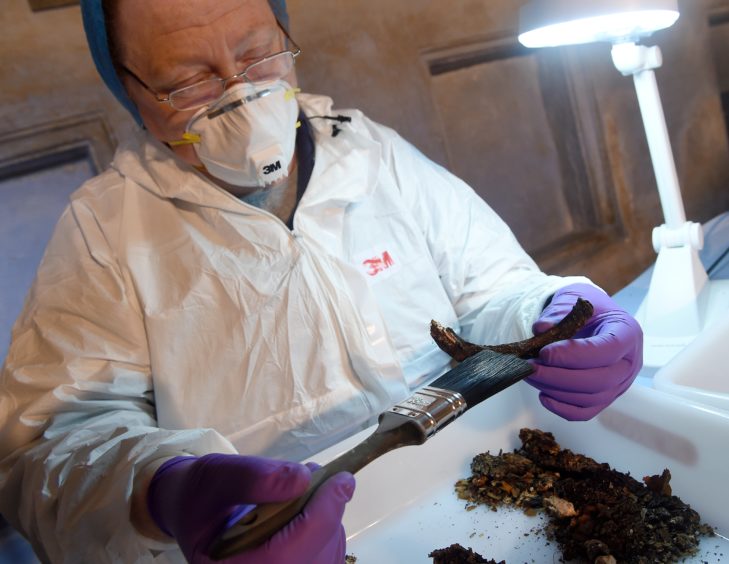 Sue started her academic life as a human anatomist and wanted to find a way to make sure the research she was doing had real world application and value.
Describing the path that led to becoming a forensic anthropologist, she explains: "In identification of the human from their remains, I found that I could help police forces in their investigations, help to bring perpetrators to justice and through reuniting the deceased with their name, help to bring some closure to families desperate to know what happened to the people they love."
So what inspired her to write Written in Bone?
"One of my areas of expertise is in human dismemberment. When we are handed a bone or a body part, then it is a bit like trying to understand a jigsaw without seeing the whole picture on the lid of the box," she says.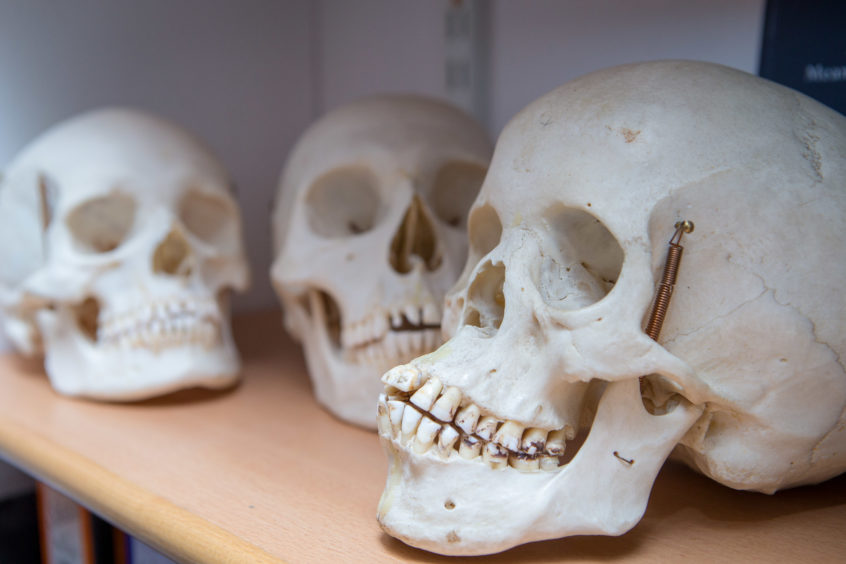 "It is a real challenge of your understanding of human anatomy. What I wanted to do was to examine every segment of the human body and explain what information is present that tells part of the story of a person's life just in those few isolated bones, say, of your hand, or your shoulder, or your chest.
"Then I wanted to be able to show that it is not just academic rhetoric but to include examples from my own forensic investigations that showed why we need to know as much as we possibly can about every part of the human body, because we simply don't know what we are going to be presented with when a body or body part is discovered."
The book is divided into three sections – the head, the body and the limbs and Sue reveals she finds every part of the body equally fascinating.
"The real challenge is being able to make the bones tell you their story even when they are fragmented, burned or damaged in some way," she says.  "It is a challenge and it is a puzzle which is what makes it so intriguing.
"My favourite bone in the body is the clavicle or collar bone. It survives fire and decomposition really well.
"It is the first bone to form when you are just a matter of weeks old inside your mum and it continues to tell me how old you are right up into your mid twenties.
"Yet it is a bone that we don't really need and lots of animals don't have it. It is a bit of a conundrum and I like that."
Using real life case studies – some criminal, some historical, some unaccountably bizarre – Sue reconstructs the hidden stories in what we leave behind with sensitivity and compassion.
"To be honest all cases are memorable," she says. "Sometimes it is because of the trauma inflicted on the person. Sometimes it is the sadness of the life lost or that it was a particularly difficult case to solve, but you got there.
"They all stand out in their own ways because they all represent a story of someone else's life and you have the honour of stepping in to try to bring their story and their name back to life."
Written in Bone is also a treasure trove of facts about the human skeleton. "Like most people, I am fascinated by the human body. It is a miracle of wonders," says Sue.
"No two are the same, not even identical twins, we all age differently, we all bear the marks of our life and if you have the right tools and the necessary knowledge, then it is an exploration.
"We all own a body, and we are all interested in our bodies and those of others, so it is an inherent human curiosity that can transcend some of the more challenging parts of the work," she reflects, before outlining a few of the way our bones can tell stories about our lives.
"Every bone tells something about your life, whether it is a clue as to whether you are male or female, 20 or 80, five feet tall or six feet tall, black or white.
"They retain a memory when they break and never quite reset fully. If we have a disease or a genetic condition, then they might leave clues for us to find.
"They are made up of the building blocks of what you eat. They have to function every day of our lives and they are a long term reminder of your fleeting time on this planet. They outlive us all by a very long time."
Sue hopes Written in Bone is a book for everyone and will help us all to think about our own bodies, "what we do to them throughout our life time and how someone like me might be able to read your life from your bones when you are no longer to tell your own story," she says.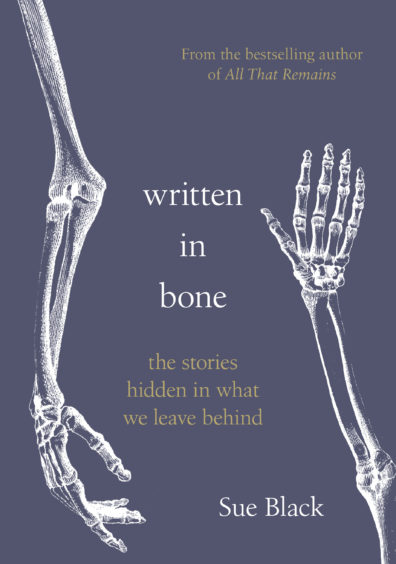 "If it causes people to pause and think about their own body through the eyes of a forensic anthropologist, then I will have succeeded. I love when you go into a primary school classroom because they want to tell you absolutely everything that has ever happened to them, their brothers, sisters, mother, father or family dog.
"They are so aware of body differences and have no reticence about any detail, no matter how flattering or otherwise," she smiles.
Sue was awarded the OBE for her services to forensic anthropology in Kosovo in 2001, and appointed Dame Commander of the Order of the British Empire (DBE) in 2016.
"I turned the OBE down three times because I didn't feel it was fair for me to be singled out from my team," she says.
"Eventually the palace persuaded me to take it but when they told me that I could only have three visitors with me (I have three daughters and a husband), I turned it down again.
"Then they told me that I could have the ceremony in my local town hall with the Lord Lieutenant of the County and that sold it for me. We had a great party.
"When I was awarded a DBE, my middle daughter said that this was likely the only chance she would ever have to go into Buckingham Palace and see the Queen – so I wasn't allowed to turn that down.
"These awards are an honour but they don't sit comfortably with me.  I can hear my father in my ear saying that OBE stands for 'other bu**er's efforts' or that a Dame is what you get in a pantomime – so I can't take it all too seriously."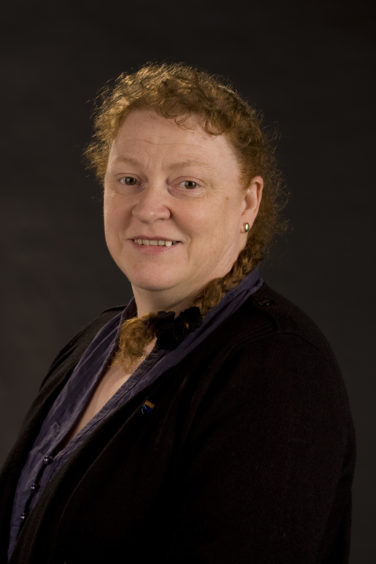 Sue is very much enjoying her role at Lancaster University, saying: "I understand the importance of engagement with different communities and to be able to work on this at an institutional level is incredibly rewarding.
"I aim to finish in December of 2023 when I hope we are able to open the doors on the Eden Project North in Morecambe which is the most fantastic opportunity to bring about social and economic change in a part of our country that has multiple levels of deprivation.
"I may have another job after that, but rather excitingly, I don't yet know what it might be."
Ad even though she's now living south of the border she's often back in Dundee. "I loved every moment at Dundee," she says.
"My daughter works and lives there so I still visit frequently and I have a lot of friends still in the university and the city.
"We had so many good times, whether it was the alien autopsy in the celebration of HG Wells' War of the Worlds or the re-enactment of William Bury's murder trial at the Sheriff Court."
As a world-renowned forensic anthropologist, Sue is in demand across the globe.
"Much of my current work is in the area of identification of perpetrator's of abuse against children and so much of my work now comes to me rather than me doing the travelling," she explains.
"Kosovo was probably my biggest experience but Iraq was memorable, as was Thailand after the Boxing Day tsunami."
So what's next for Sue?
"I have a number of forensic cases ongoing at any one time and they keep my busy," she says.
" I have a full time job with Lancaster University and a lot to achieve before I leave and I have a large research grant that is looking at how unique is the human hand, which is vital to our understanding of interpretation of evidence in child abuse cases.
"My family will tell you that I am ALWAYS working. If I have spare time then I am writing, but I don't have a lot of spare time."
Written in Bone: The stories hidden in what we leave behind by Sue Black is published in hardback by Doubleday on September 3, £18.99.


[ad_2]